Special Operations Group Military and Law Enforcement Collectibles
Browse more than 20,000 items and get a 10% discount on all items using the code

SOA10

at checkout.
Special Operations Group Military and Law Enforcement collectibles is your leading source for Special Operations, Military, and Public Safety collectibles, including hard to find Special Operations items. SOG has been in business for more than 26 years!
---
Special Operations Association Vietnam Tribute Browning Pistol

Product Description
Model: Browning Hi-Power
Caliber: 9mm Luger
Grips: Walnut with cherry stain SOA emblem
Edition Limit: 250
Decoration: Each Tribute pistol is decorated by craftsmen specifically commissioned by America Remembers.
Browse hundreds of items and get a 10% discount on all items using the code

SOA10

at checkout.
Altogether American Signs is a Veteran Owned Company specializing in American Made Military Themed Metal Art Signs and Clocks.
---
TROY XM177E2 Commemorative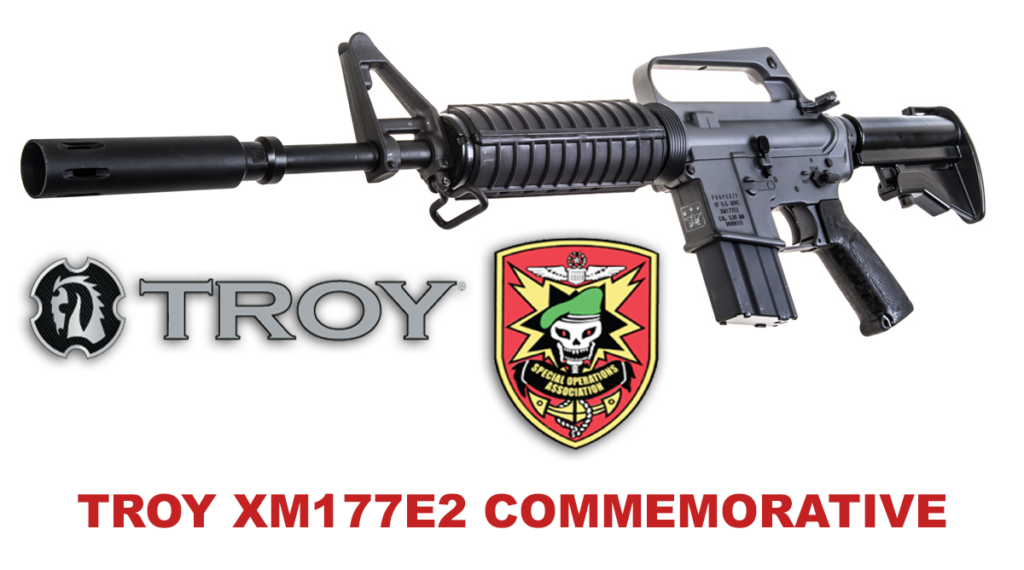 The XM177E2, in partnership with SOA & SFA, is the second in the TROY My Service Rifle series following the GAU-5/A/A. The XM177E2 is a U.S. Special Operations icon specifically built for the covert combat needs of MACV-SOG in Vietnam. The TROY XM177E2 Commando is of heirloom quality and aesthetically precise.
Immortalizing duty, sacrifice, and honor, proceeds from each XM177E2 will support the charitable efforts of The Special Forces Association and the Special Operations Association as they,
"commemorate fittingly the memory of those who have given their lives in defense of the Free World."
Author: Billy Waugh, Special Forces SGM (Ret.)
Wounded in action by a buttstroke to the head – lined up for execution during a 150km march to the POW camp – caged and chained for 20+ months – interrogated by the North Vietnamese officials, a Cuban interrogation team – even an Australian journalist – Isaac Camacho never wavered in his quest to escape.
Price: $30.00
Author: Stephen Perry
The book is a compilation of true stories of the fearless and heroic men of SOG. These are stories of once Top Secret combat missions behind enemy lines in Laos and North Viet Nam.
Price: $13.95
Author: Don Bendell
Find out what happens when tall handsome half-white/half-Lakota (Sioux) Pinkerton Agent Joshua Strongheart takes on the infamous and ruthless Washington-based Indian Ring.
Price: $6.99
Author: R.C. Morris
Project Delta and its clandestine special reconnaissance operations proved to be one of the most successful Special Operation units of the Vietnam War, yet few Americans have ever heard of them, or know that this unit's operational model was precursor for the renowned Delta Force.
Price: $21.95
Author: John Stryker Meyer
For eight years, far beyond the battlefields of Vietnam and the glare of media distortions, American Green Berets fought a deadly secret war in Laos and Cambodia under the aegis of the top secret Military Assistance Command Vietnam – Studies and Observations Group, or SOG.
Price: $24.95
Author: Jason M. Hardy
The limited printing of 500 copies are hardcover with a dust jacket and chronologically breaks down the history of Recon Teams: Delaware (CCC), Hawaii (CCC) and Intruder (CCN). The large format, 400-page book is on heavy archival paper with over a thousand period photographs of Recon Team personnel, mission notes, letters home, and artifacts.
Price: $150.00
Author: Radix Press
The Green Beret Magazine was published by 5th Special Forces Group (Airborne) from 1966-1970 in Vietnam. All 52 issues are reprinted on a glossy paper stock with a high degree of faithfulness to the original. Order a single copy or the all-hardcover set.
Price: $35.00 (single issue)
Author: James Stejskal
This book relays the history of a little-known and highly classified US Army Special Forces Detachment that was stationed in Berlin, Germany from 1956 to 1990. It came into existence in response to the threat posed by the massive armies of the Soviet Union and its Warsaw Pact allies to the nations of Western Europe.
Price: $32.95
Author:Albert Slugocki
The spell binding memoirs of Albert Slugocki. Displaced from his native Poland because of his hatred of the communist government. He served his adopted country faithfully with honor and distinction for 21 years in peace and war as a combat arms soldier…
Price: $19.95
Author:Lynne Black
Lynne Black is one of those warriors who have added one more piece to the puzzle which was known as MACV-SOG and the secret projects that fought the silent, bloody contacts across the fence in the Second Indochina War.
Price: $15.00
Contact: Jay Hays
The stories came from the heart and were told as they were experienced by the men, which is a gift they have chosen to share. The emotions and fears expressed by the men were shared by the wives and families left behind. This is truly an accounting of events that will be read and remembered.
Price: $25.00
Author: Maj. John Plaster
Find out why professional snipers, sharpshooters, and long-range riflemen consider "The Ultimate Sniper" to be the bible of their craft. Softcover-8½"x11″-584 pages
Price: $70.00
Author: David A. Maurer
At twenty-five yards the front sight of the machine gun nearly covered the back of the reclining soldier's head. So begins The Dying Place, David Maurer's unflinching look at MACV-SOG, Vietnam, and a young man's entry into war.
Price: $59.13
Author: Gene H Pugh
Survivors guilt is not the only thing that is bothering Allen Purvis. He has to relive in his mind the battles in a denied area when he was assigned to MACVSOG the ultimate secret organization during the Viet Nam war. He is put to the test when he commands his friends to sacrifice themselves to save the others of the unit.
Price: $21.95