Taps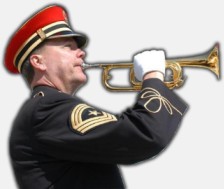 Rest easy, sleep well my brothers.
Know the line was held, your job is done.
Rest easy, sleep well.
Others have taken up where you fell, the line has held.
Peace, peace, and farewell…
The 10 most recent deceased SOA members are shown at the top of the page.
Non-Members who have passed are listed below these.
James G. "Jim" Ringland, SOA #1498, 1SGT, USA (Ret), age 80 years, of Holts Summit, Mo., passed away November 4, 2014 at home surrounded by his family. He was born on January 27, 1934 in New London, Connecticut the son of James G. and Dora Oles Ringland. He was married in 1957 in New York to Joan Thomas, who preceded him in death in 1999. He later married Marilyn Fischer on November 16, 2002 in Bradenton, Florida. As a teenager he roller skated on 19" stilts in Florida and when he was 13 years old began racing boats built by his father in Sarasota Bay. Jim graduated from Manatee County High School in Bradenton, Florida in 1952. Jim "Ringo" was proud to serve his county in the United States Army, Special Forces, and Special Operations for over 26 years, retiring as First Sergeant. During his time in the service, Jim served one tour in Korea and three in Vietnam, volunteering for two of them. After his service in Vietnam, Jim helped teach survival and psychological warfare tactics at Fort Bragg in North Carolina to Special Forces soldiers. Jim excelled at everything he set his mind to and attained numerous honors and certifications in every position he held. In June 2010 Jim was the 11th recipient of the Saint Phillip Neri Patron Saint of the US Army Special Forces Silver Award for outstanding service to Special Forces. When President John F. Kennedy made the "Green Beret" the official headgear of the Special Forces soldier he was part of the ceremony. Following Jim's military career, he was employed with the Atlanta Braves organization as an in-house detective and self defense training officer, as a branch captain for the Atlanta Journal – Constitution, and as a locksmith in Atlanta and Tyler's Lock and Key in Jefferson City. He helped organize and was a life member of the Special Forces Association, Chapter #82 Branson where he served as president for ten years and was president of Chapter #59 in Georgia for many years. He was also a member of the Special Operation Association; American Legion Roscoe, Enloe Post 5; the Veteran's of Foreign Wars in Columbia, Mo.; and a supporter of the Patriot Guard Riders. A resident of central Missouri area since 2000, Jim enjoyed bowling, billiards, playing the drums, and being a supporter of the Central Missouri Honor Flight. Survivors include: his wife, Marilyn; two sons, Michael Ringland and his wife Alina of Laurel Hills, Florida, and James Ringland and his wife Tovah of Marietta, Georgia; one daughter, Monica Ringland of Mableton, Georgia; two brothers, Don Ringland and his wife Mary and Tommy Ringland and his friend Cleo, all of Bradenton, Florida; one sister, Dea Brown and her husband Don of Bradenton, Florida; his mother-in-law, Ada Arlene Fischer of Versailles, Mo.; four grandchildren, Alina Joan of Greensboro, North Carolina, James E. Ringland of Laurel Hills, Florida, and Nathan and Jadon Ringland of Marietta, Georgia; several nieces and nephews; and three beloved cats, Tucker, Anya, and Midnight. He was preceded in death by two brothers, Russell and Barry Ringland.

Ted Aslund, SOA #2875, Theodore "Ted" Darby Aslund, age 69, passed away Sunday, September 21, 2014. Mr. Aslund was born January 17, 1945 in Chester, SC. He was a U.S. Army Veteran and had served during the Vietnam War. Mr. Aslund was a former member of the Wolf Laurel Ski Patrol for eighteen years, he was an avid fisherman, and enjoyed spending time with his dogs. He was the son of the late Charles Birch and Isabel Darby Aslund. Survivors include his wife of fifteen years, Jean Manera Aslund; his step-daughter, Elizabeth Manera Goodmon and step-son, Mitchell Medford. His memorial service was held at 2:30 p.m., Friday, September 26, 2014, in the Chapel of West Funeral Home, 17 Merrimon Ave. in Weaverville. Reverend Michelle K. Smith officiated.

Alfonso Stevens, SOA #3050, passed away on 30 August 2014.

Ray Whittington, SOA #49, passed away in August 2014. He is survived by his wife, Irene E. Whittington of Galveston, TX.

Jan Janosik, SOA #2446, passed away on July 30, 2014. He is survived by his wife, Josie. Jan served in White Star and was a resident of Brandon, FL.

Jon R. Cavaiani, SOA #1000, SGM, USA (Ret), Medal of Honor, died July 29, 2014 in Stanford, CA after a prolonged illness. By his side was his wife, Barbara. Born in England, Cavaiani came to the United States with his parents in 1947 at age four. Though initially classified 4F, due in part to a severe allergy to bee stings, Cavaiani eventually joined the Army from Fresno, California, shortly before becoming a naturalized citizen in 1968. He went to Vietnam in 1970 with the US Army Special Forces (the Green Berets) and by June 4, 1971, he was serving as a Staff Sergeant in Task Force 1 Advisory Element, USARV Training Advisory Group. This "advisory group" was formerly an element of the top secret and clandestine unit, MACV-SOG. On that day, near Khe Sanh, his outpost came under intense enemy attack. Cavaiani organized the unit's defense and, when evacuation by helicopter became necessary, he voluntarily stayed on the ground and directed the aircraft, which successfully evacuated most of the platoon. Cavaiani and a small group were left behind. During a major enemy attack the next morning, he ordered the remaining men to escape while he stayed and provided suppressive fire to cover their retreat. He was captured and spent the next two years as a prisoner of war. Jon R. Cavaiani was released by the Provisional Government of Vietnam on April 27, 1973. President Gerald Ford presented Cavaiani with the Medal of Honor during a ceremony on December 12, 1974. Cavaiani later reached the rank of Sergeant Major before retiring from the Army in 1996. According to John "Tilt" Meyer, president of the Special Operations Association and former member of MACV SOG's RT Idaho, "Jon remained very active in the Medal of Honor Society and the Special Operations Association and continued throughout his life to serve his nation and his community." Meyers continued, "His friends, family and brothers in arms will miss his broad smile and quick wit, but mostly we will miss his ever present willingness to help others." After returning from Vietnam, he served as an instructor at Fort Bragg, North Carolina, from July 1973 to August 1974, before transferring to the U.S. Army Readiness Region IX in San Francisco, California where he was assigned as the Chief Enlisted Advisor. His next assignment was as an Operations Sergeant on the Allied Staff in West Berlin, Germany, from September 1977 to August 1980. Cavaiani then served with the 10th Special Forces Group at Fort Devens, Massachusetts, from August 1980 to May 1983, and then with the 11th Special Forces Group at Fort Meade, Maryland, from May 1983 to June 1984. His next assignment was with the 97th Army Reserve Command, also at Fort Meade, where he served until September 1985. Moving to Fort Eustis, Virginia, he assumed the position of NCOIC of Plans, Operations, and Training and then as Operations Sergeant Major with the Flight Concepts Division, a slot he held until May 1989. SGM Cavaiani's final assignment was as Chief Instructor at the Army ROTC detachment at the University of California, Davis campus, from May 1989 until his retirement from the Army on May 31, 1990. Upon retiring, he served as the 6th region director of the Congressional Medal of Honor Society and also graduated with honors from the culinary arts program in Columbia, California where he lived with his wife Barbara. Jon is survived by his wife, two daughters, three grandsons, and two granddaughters. Among his numerous awards and decorations are the nation's highest award for valor, the army Medal of Honor; the Legion of Valor, Legion of Merit, Bronze Star medal (valor), Purple Heart with oak leaf clusters. Jon was a freefall and static line jumpmaster and has over 5,000 jumps all over the world. Funeral services will be held at Reilly Funeral Home in Philadelphia with burial to take place at Arlington National Cemetery.

George A. Fisher, SOA #636, LTC, USA (Ret), died on 5 July 2014 at his home in Las Vegas, at the age of 79. George retired from the US Army after 28 years of service as a Military Intelligence officer with the rank of Lt. Colonel. His tours of duty encompassed South Vietnam, Laos (Project 404), Thailand, Cambodia, China, South Korea, Europe and the Middle East. Among his awards and decorations are The Legion of Merit, Bronze Star, Vietnam Cross of Gallantry, Joint Service Commendation Medal, Meritorious Service Medal, Army Commendation Medal and numerous awards from allied Nations. George was fluent in the Chinese, French, Burmese and Thai languages. In 1998, he was preceded in death by his wife, Beverly. He is survived by his daughter, Vickie Fisher-Moore; her husband, Robert Moore and grandchildren, George Cody Moore and Kaitlyn Wray Moore of Hendersonville, North Carolina.

John McGovern, SOA #2574, SOA member and highly respected SOG member from Phu Bai, died 19 June 2014, with his loving wife, Janet, by his side.

Paul C. Payne, SOA #2098, passed away at his home on 16 June, 2014. A visitation and service will be held at Rogers and Breece Funeral Home on 21 June.

Roger L. Sullivan, SOA #976, 68, of Richmond, died at home on May 4, 2014. A native Virginian, Roger was the son of the late John L. Sullivan and Janie Emma Curtis. He graduated from Spotsylvania High School in 1964, attended Richmond Professional Institute for one year, and then joined the U.S. Army in January 1966. Roger served proudly with the 5th Special Forces Group MACV-SOG, Command & Control North, in Vietnam, the most decorated unit during the Vietnam War. While operating with Recon Team Krait out of Khe Sanh, Vietnam, he was critically wounded on February 19, 1968, and medi-vaced to Japan. For his courageous service, he was awarded the Silver Star, Bronze Star for Valor, Presidential Unit Citation, Purple Heart, Air Medal, Vietnam Cross of Gallantry with Palm, Vietnam Civil Actions Honor Medal, First Class, Combat Infantryman Badge and Vietnam Service Medal with Two Bronze Stars. After recovery, Roger was returned to 6th Special Forces Group, Ft. Bragg, where he was discharged in December 1968. Roger returned to college at VCU, earning his degree in Business Management (Real Estate). He was successful in the real estate and insurance business until redirecting his focus and interests and certifying as a National Service Officer for a Veterans Service Organization. He became a passionate champion for veterans' rights and developed an all-consuming devotion to advocating on their behalf at every level. He retired as NSO six years ago, but he continued to help Veterans daily until his illness this year. Roger is survived by his loving wife of 42 years, Brenda; their devoted twins, of whom Roger was so proud, Suzanne and Jonathan; his brother, George Curtis (Elsie) of Spotsylvania; brothers-in-law, Joddie Williams Jr. and Kenny Williams (Sue) of Emporia; three nephews, two nieces, and a growing family of great and great-great-nieces and nephews. Interment, with military honors, will be at Arlington National Cemetery.

Lou Smith, SOA #134, passed away on Sunday, May 1, 2014 at the VA hospital in Indianapolis, IN according to his wife, Bettye. Lou was also a member of SFA – Chapter 21 in Florida. Lou was one of the original 33 men that opened FOB-2 at Kontum in May of 1966 and served on RT Dakota.
---
It is with deep regrets, that the SOA Board of Officers announces to the membership this continued list of Members who have passed away:
James R. McGlon, SOA #1589, recently passed away from complications from pneumonia according to his wife, Anne.
A military burial was completed last Saturday and memorial services will be conducted on Saturday the 26th at his local church. Jim, also known to his friends as "Old Blue", served on A-103 (Gia Vuc) in 1967 then again on RT New York in 1968.

F.M. Ritchie, SOA #734, At approximately 1200 hours local time, 9 April 2014, F. M. Ritchie passed away at the local VA Hospice Center in Ivins, Utah. F.M. was an "Original" member of the 10th Special Forces Group (Airborne) located at Fort Bragg, North Carolina and deployed to Bad Tolz, Germany in November 1953. He will be missed by all who knew him.

Robert "Bob" Willman SOA #1855, passed away Monday evening, April 1, 2014. Bob's wife's name is Gail. Her one son is in China.

Robert "Bob" Willman SOA #1855, passed away Monday evening, April 1, 2014. Bob's wife's name is Gail. Her one son is in China.

Newlin "Eric" Happersett, SOA #225, Lt. Col., US Army (Ret), passed away March 18, 2014 in Phoenix Arizona. Eric was born in 1923 Colorado and grew up on a ranch in Wyoming. At age 17 Eric enlisted in the US Army Air Corp. As result of his bravery and dedication to duty, he rose through the ranks and, after 26 years, retired as a Lieutenant Colonel. Eric's military career spanned three wars. As a gunner during World War II, his plane was shot down and he was captured and held as a POW in Nazi Germany for two years. Upon his release, he returned to duty and went on to serve in Korea where he was wounded in action. During the Vietnam War, Eric was a member of the storied 82nd Airborne Division. As a Green Beret in Special Forces he repeatedly fought behind enemy lines, served three tours of duty and was again wounded in action. In 1970 Eric retired from military service and moved to Arizona where he worked as a Lieutenant in the Maricopa County Sheriff's Department and later became the City of Peoria Chief of Police. A lifelong horse lover, Eric fulfilled his dream of having a horse ranch as owner of Bluegrass Arabians in Cave Creek. He and his wife Joyce made many friends in the Scottsdale horse community and were very active breeding, training and showing Arabians and Quarter Horses. He was also a devoted dog and all­around animal lover. As a genuine war hero and committed animal advocate, there are countless human beings and other living things who owe their lives to Eric. Eric Happersett is survived by his loving wife of 46 years, Joyce, brother­in­law and friend Ted Klainer, Sr; nieces Mary and Stephanie Klainer, and nephew, Ted S. Klainer.
There will be a visitation on Thursday, March 27th, 5 to 8pm at Shadow Mountain Mortuary, 2350 E Greenway Rd, Phoenix. Funeral Mass will be held on Friday, March 28th, 9am at Our Lady of Joy Catholic Church, 36811 N. Pima Rd, Carefree, followed by internment at 11 am at the National Memorial Cemetery on Pinnacle Peak Road.

Ola Lee Mize, SOA #1257, COL (USA Ret.), Medal of Honor, passed away on 12 March 2014. Colonel Mize was born on 28 August 1931 and entered the United States Army on 18 April 1950. After completing Basic Training and Airborne School, he was assigned to the 325th AIR at Fort Bragg, North Carolina. In 1952, then Sergeant Mize, was assigned to the 15th Infantry Regiment, 3d Infantry Division and rose to the rank of First Sergeant. While assigned to Company K, 15th Infantry Regiment, Sergeant Mize distinguished himself during action against the enemy near Surang-ni, Korea, on 10-11 June 1953. While committed to the defense of "Outpost Harry," a strategically valuable position, the enemy launched a heavy attack. Sergeant Mize established an effective defense system and inflicted heavy casualties against attacks from enemy assault forces which had penetrated into trenches within the outpost area. Throughout the tenuous fight, Sergeant Mize led his Soldiers from bunker to bunker to clear the enemy forces. After reestablishing the defense, he moved from man to man, distributing ammunition and shouting words of encouragement, despite being blown down by artillery and grenade blasts three times. On September 7, 1954 he was presented the Medal of Honor by President Dwight D. Eisenhower. In 1956, Colonel Mize received his commission and was initially assigned to Fort Bragg and subsequently to Germany. After leaving Germany in 1962, then Captain Mize, completed Special Forces training and was assigned to the 7th Special Forces Group. In late 1963, he was assigned to the 5th Special Forces Group, where he was deployed to Vietnam as an A-Team Leader. In 1965, he was assigned to the Special Forces Training Group, where he was the Advanced Training Committee chief for SCUBA, HALO, and the SKY HOOK schools. Colonel Mize is credited for being the officer responsible for starting the present day Combat Divers Qualification Course in Key West, FL. From 1966 to 1967, he was again assigned to Vietnam with the 5th Special Forces Group where he was an Operational A, B, and C Detachment Commander and once more in 1969, where he was assigned to the 5th Special Forces Group as the Commander of the 3d Mobile Strike Force Command (Cambodian Troops). In 1975 Colonel Mize was assigned to Fort Bragg, North Carolina, where he was initially the Special Forces School Chief for the Field Training Division and Resistance Division and subsequently the Commander of the Special Forces School.
Colonel Mize's awards include the Medal of Honor, Silver Star, Legion of Merit (with Oak Leaf Cluster), Bronze Star (with four Oak Leaf Clusters), Ranger Tab, Master Parachutist Badge, SCUBA Badge, and the Combat Infantryman's Badge (2nd award). Colonel Mize retired in 1981 and lived in Gadsden, AL with his wife, the former Betty Ruth Jackson. He has been a frequent speaker with the Regimental "dining ins," an event that preceded the Regimental First Formations, where Special Forces candidates receive their berets. He is also active in the Medal of Honor Society and gives talks to school groups not only about the Medal of Honor, but the Army in general.

Celestino William Garcia, SOA #1052, CSM (Ret), age 84, of Widefield, CO, passed away at home February 11, 2014. He was born April 6, 1929 in La Junta, CO but grew up in Rocky Ford, CO prior to his military service which became his life-long passion. He is survived by his son, Gregory; his daughter, Rhonda Lewis; his grandson, Joshua (Colleen) Lewis; his great-grandson, Francisco, and his brother-in-law, Werner Gierth. He was preceded in death by his devoted wife of 54 years, Helga. Bill joined the Army Air Corps at age 17 but when it was discovered he was not yet 18 years old he was sent home where he stayed working with his dad as a sheepherder and as a pressman for Unique Cleaners in Rocky Ford. As soon as he turned 18 he joined the U. S Army, where he remained until his retirement in October 1968. He rose quickly through the enlisted ranks and became one of the youngest Command Sergeant Majors (CSM).Throughout his retirement he was very active in the VFW, American Legion and especially the Special Operations Association. For many years, up to and including 2013, he attended the Special Operations association Reunion in Las Vegas, NV. Up until three years ago he would meet his comrade in arms Don Benjamin in Cheyenne, WY and drive in Don's motor home to Las Vegas. After that he agreed reluctantly to take a flight to Las Vegas. Among the many highlights of his career was sewing with the 11th and 101St Airborne as a paratrooper. He was stationed for many years at Fort Campbell, KY. He also proudly served the U. S. Army in assignments to Japan, Korea, Germany and Vietnam, where he had four different assignments. He was later assigned to Fort Carson, where he proudly served as CSM for the Aviation Battalion until his retirement in October 1968.
It was in Germany that he married his wife Helga in January, 1957. Bill was very proud that in whatever country he was assigned he learned to speak their language. He was fluent in Japanese, Korean and German, in addition to Spanish and English. Bill was a member of a large close family. He was preceded in death by his parents, Donaciano and Lucy Garcia; his sisters, Ann, Viola, and Mary; his brother, Donald Ernest; his stepfather, Juan Zamora, and his stepbrothers, Joe and John Zamora. He is also survived by his sisters, Sylvia (Tony) Aragon and Bertha Garcia; his brother, Charles (Delia) Garcia, his stepsister, Mary Lou Zamora and his stepbrother, Isaac Zamora. Bill was very close to and was loved very much by all his nephews and nieces. They include Bob (Judy), Jimmy (Maria), Ben, Donny, Billy Vigil, Marilyn (Fernando) Sanchez, Pauline (Joe) Gil, Patty Arendt, Michael (Birdy), and Andy Bennett; Anthony (Linda) Garcia, Jonathan Marshall Garcia; Carla, Carlos (Theresa), and Christoper Garcia; his grandnephews, Nick Gonzales and Erik Garcia; his grandnieces Nyssa Garcia, Adriana Gonzales, Aurelia and Mia Garcia, and step nephews and nieces Becky Pacheco, Marisa (Jose) Gomez, Denise (Tony) Hernandez, and Vincent Zamora. He was also preceded in death by a niece, Nancy Juarez and nephew Larry Arendt. Funeral services will be held at 2 p.m. Thursday, February 20, at Dove-Witt Family Mortuary, 6630 S. Highway 85/87, Fountain, CO. Bill's remains will be cremated. After completion of the new National Cemetery in Colorado Springs, Bill and Helga will be laid to rest.

Charles W. Norton, Jr., SOA #871, COL (Ret), passed away peacefully Saturday, 16 November, 2013. Charlie enlisted in the Army in 1944 and was assigned to the Persian Gulf Command where he earned his commission. He returned to his home in Maine serving in the National Guard. He volunteered for a new organization, the 10th Special Forces Group (Airborne) in late 1952. He then volunteered for duty in Korea with the 8240th Army Unit. He was then assigned to the 77th SFG(A) as a Detachment CO under COL Aaron Bank in 1954. He had several assignments between the 77th, 10th, 7th SFG's and the UW Department at the special Warfare School. In 1962 he was assigned to the 1st SFG(A) on Okinawa and was made the first full tour CO of the resident detachment in Korea. After a tour with the 1st Armored Div. COL Norton was assigned to MACV SOG in Vietnam and commanded FOB 2 replacing MAJ Larry Thorne, who was at that time MIA. He expanded the program establishing two FOB's at Khe Sanh and Dak To. He served as operations and launch officer of the FOB's and became XO of CCC. He returned to CONUS as the sole instructor in UW and Airborne Operations at the Armed Forces Staff College. In 1969 Charlie returned to Vietnam as the XO of the 5th SFG (A). After that tour he took a course in Finnish and was assigned as the Army Attaché in Finland. He returned to Ft. Bragg as the CO of the 7th SFG(A) and later the DCO of the JFK Center for Military Assistance. Charlie retired in 1981. He joined the SFA in 1966 and was President Emeritus of Chapter 11. Charlie's widow, Virginia "Ginny" asked that if anyone wishes memorials may be made to the Special Operations Warrior Foundation or the JFK Special Warfare Center Museum at Ft. Bragg. Services will be in the Spring at Arlington.

Ronald D. Colwell, SOA #1180, passed away 7 Nov. 2013. Ronald served in the Korean War and had four or more tours in Vietnam. Ronald retired with 20 years of active service. Ron was a member of SFA and SOA. Among his awards are the Silver Star, Bronze star and 3 Purple Hearts. Ronald will be buried in Arlington National Cemetery in the spring of 2014.
He is survived by his niece Kathy Foster.

Rheault, Robert B, SOA #387, COL (Ret), 87, passed away peacefully at home in Owl's Head, Maine on 16 October, 2013. Bob worked as a cowboy on ranches in Wyoming when he was just 14. He graduated from Phillips Exeter Academy and attended the US Military Academy, West Point. He first saw combat in Korea earning a Silver Star and rising to the rank of Captain. He returned to West Point and taught French for several years. He attended the Special Forces Officer Course in 1960 and was assigned to the 10th Special Forces Group in Germany. In 1964 he served with the 5th Special Forces Group in Vietnam. He served on the Special Operations Division, Office of the Joint Chiefs of Staff in 1966. He took command of the 1st Special Forces Group on Okinawa in 1968 and commanded the 5th Special Forces Group in Vietnam until his retirement in 1969. After his retirement Bob worked for the Hurricane Island Outward Bound School for 32 years. He started as an Assistant Watch Officer and rose to President of the school. During the last 19 of those years he started and ran an Outward Bound Program for Vietnam Veterans suffering from PTSD. He was preceded in death by his brother, Andre and his first wife, Nan. He is survived by his wife of 36 years, Susan; five children, Susanne, Meesh, Robert Jr, Nicholas and Alexis. He is also survived by many loving in-laws, nephews and nieces, grandchildren and one goddaughter. The family requests memorials be made to The Hurricane Island Outward Bound School, 39 Mechanic St. Suite 310, Camden, ME 04843

Sadler, John F. Jr., SOA #1744, COL (Ret), 89, passed away on 7 October, 2013, after being hospitalized for massive heart failure. COL Sadler enlisted in 1943, attended Airborne School and was sent to the Pacific Theater with the 511 PIR, 11th Airborne Div. He fought across New Guinea, the Philippines, Leyte and Luzon. He attended Officer Candidate School in Australia in 1945. After Japan surrendered he served with the Army of Occupation in 1947. He then served in Korea with the 8240th, 8751st and 8706 Army Units, the forerunners of modern Special Forces. After the Korean Was COL Sadler was assigned to the XVIII Airborne Corps at Fort Bragg and then to JUSMAAG, Turkey. In 1961 he was assigned to PACOM in Hawaii in a classified position. He became Chief, Military Region 2 in Laos where he supported the White Star Teams. After various assignments with the 82nd Airborne Division, the 187th Parachute Infantry Regiment and the Army War College, he became Chief, Plans and Programs Division, USAREUR. While as a Brigade CO in the 8th Infantry Division he got the call to become the fifth, and final, Chief, Studies and Observations Group (SOG). He served as Chief SOG from 1970 to 1972. His last assignment was DCO, Southern Command in the Canal Zone. He retired in 1975 after 32 ½ years of distinguished service. Among his many awards and decorations are the Distinguished Flying Cross, Bronze Star w/V, Air Medal, Purple Heart, many WWII and Korean service medals, CIB w/Star, Master OParachutist Badge, Glider Badge. He was preceded in death by his daughter, Beth. He is survived by his wife of 58 years, Dorothy "Murph;" daughter, Kris and son John. He is also survived by four grandchildren and great grandchildren.

William J. Boggs, SOA #1372, MAJ, USA (Ret), 79, of Dog Run Rd. Salem departed this life on Friday, September 20, 2013 at the Louis A. Johnson VA Medical Center. He was born on May 8, 1934 at Thornton a son of the late William Washington and Mabel Pearl Snyder Boggs. Twice married he was preceded in death by his first wife Barbara Allen Boggs. On October 20, 2007 he married Mary Elizabeth Alfred Boggs who survives. Mr. Boggs was a retired Major, U. S. Army Special Forces. He had two tours of duty in Vietnam and was a Bronze Star and Purple Heart recipient. He was Department of WV Military Order of Purple Heart State Commander; 3rd District Commander, American Legion and Commander, Underage Veterans of Military Service. He was a Cum Laude graduate of Fairmont State University. Mr. Boggs and his first wife bred and showed Chow Chow as Sylvan Heights Chows. Also surviving is three sons, James Boggs and wife Alcinda, Clarksburg, William A. Boggs, Weston, Christopher Gladkosky, Salem, one grandchild, Lindsey Boggs, one great grandchild, Cayden Boggs. five brothers, John A. Boggs, MN, Merritt Boggs, Clarksburg, Max Boggs, Los Angeles, CA, James Boggs, Hagerstown, MD and Joseph Boggs, Alum Bridge. Two sons, Joseph Wayne Boggs and John Andrew Boggs preceded him in death. A memorial service was conducted at the Harbert Funeral Home; 287 W. Main St.; Salem, WV on Monday, September 23, 2013.

John A. Damoth, SOA #1414, passed away Sept. 12, 2013. He served in Vietnam with SOG recon at CCS & CCC.

Minnicks, Charles J., SOA #3559, 82, passed away on 31 August, 2013, in Greensburg, PA. Skip served during the Korean War and joined Special Forces serving in the original 77th Special Forces Group in 1954. He also served with the 7th and 3rd Special Forces Groups. He went to Vietnam with the 5th SFG in 1962 and served continuously until 1969 in various assignments. He was assigned to I, II and III Corps, Delta Project and was at Khe Sanh during the Tet Offensive of 1968. After retirement he belonged to the Shidle Lodge 601, Syria Shrine of Pittsburgh, Syria Shrine Gun Club, the Coudersport Consistory, VFW Post 8427, American Legion Post 945, several Rod and Gun Clubs, the Khe Sanh Veterans Association and the Special Forces Association. He was inducted into the PA Hall of Valor at the Soldiers and Sailors Memorial Hall and Museum. He is survived by his wife, Patricia Ann; a son, Charles; three grandchildren; Charles, Margaret and Patricia; and his brother, James. Masonic services were held at the Shidle Lodge 601. Interment with full military honors was in the Westmorland County Memorial Park.

Jerry Lee, SOA #1615, 78, of Palm Coast passed away August 3, 2013. A Memorial Service will be held in his honor Wednesday, August 7, 2013 at 1:00 pm at Lohman Funeral Home Palm Coast. Jerry proudly served his country for 22 years in the US Army, retiring as a Master Sergeant in Special Forces. Jerry had a second career in the US Postal Service, retiring after 22 years there, as well. Jerry and his wife Sandra moved to Palm Coast from Canterbury, NH in 2003. In NH, Jerry attended and graduated from Nathaniel Hawthorne College in 1980. Jerry enjoyed Florida for the golf and fishing. He also was an avid reader. Jerry was a life member of the VFW, and active in the Special Operations Association and Chapter XXI Special Forces Association. Jerry will be sadly missed by his wife Sandra and their five children: Peter R. Lee, Sharmon Lee Moes, Terra Lee, David E. Lee, and Matthew H. Lee and daughter in law Kimberly, and by his ten beloved grandchildren. Arrangements are under the careful direction of Lohman Funeral Home Palm Coast. Condolences may be shared with the family atwww.lohmanfuneralhomes.com.

Ronald Henry "Tex" Houston, SOA #2288, SSG, USA, passed away May 27, 2013. He was a member of the 5th SFGA during the Vietnam War. It is with great sadness, we report the loss of SSG Ronald Henry 'Tex" Houston, who passed away, 27 May 2013, in Wickenburg, AZ. Tex died as a result after a lengthy battle with cancer. I served with Tex at SOG CCS; he was assigned to 1st Exploration Company, with extensive combat time running missions with Captain Carr and Pappy Reed. On my first tour, I was assigned to 1st company for a very short time and went on two operations with him before joining CCS Recon. My second week in county, I went on my very first mission with Tex. It was my first combat, and Tex went the extra mile to make sure I didn't do stupid as I earned my CIB. Tex was a friend, a great warrior, solid soldier. He was one of those soldiers you could rely on 100% in the field. Tex returned to the US and went back to being a cowboy in Texas and AZ for years, then started a Gun Shop in AZ. He recently gave the SOA several items for our silent auction. He is survived by his only daughter, unfortunately; he had little or no contact with her over the years. Tex was a member of the SOA/SFA, he was a decorated SOG veteran receiving his CIB and Purple Heart, if my memory is correct, he earned several awards for valor and achievement.
May he RIP

Pete "BUS" Buscetto
CCS Recon

Rondald Darwin Wingo, SOA #273, CW3, US Army (Ret), passed away May 13th, 2013 at St Vincent's Hospital, Birmingham, Alabama. He had been undergoing treatment for cancer. Ron was born on December 31st, 1939 in Sipsey, Alabama. After graduation from high school, Ron entered the Army and after various training programs at Fort Bragg he was assigned to 1st Special Forces Group on Okinawa. While assigned to 1st Special Forces Group, he served several TDY tours in Vietnam with Combined Studies, and 5th Special Forces Group. One of his assignments was with MACV Recondo School. He returned to CONUS assigned to 7th Special Forces Group at Fort Bragg in 1969 and then attended the Warrant Officer Academy and Flight School. Upon completion he was assigned to the Aviation Unit at Hamby Army Air Field on Okinawa. He retired from the 82nd Airborne Division at Fort Bragg. After retiring he flew a ferrying service to oil rigs in the Gulf of Mexico and then as a Life Support Pilot with the Carraway Methodist Medical Center in Alabama retiring as their Chief Pilot in 2000. His many awards and decorations include the Bronze Star, CIB, Master Parachutist Badge, Senior Army Aviator Badge and Combat Divers Badge. He was a member of the Special Forces Association and the Special Operations Association as well as several other Veteran Associations. Ron is survived by his wife of 46 years, Fumiko of the home, three children: Brett, Katharine and Linda, two brothers: Tony and Rex Wingo, five grandchildren: Abbi Brown, Cody Small, Houston Wingo, Harrison Wingo and Hudson Wingo. "Rags" will be cremated and interred in the National Cemetery in Montevallo, Alabama with full military honors on Thursday 23 May at 1315 Address: 3133 Alabama Hwy, Montevallo, There will be an informal reception for family and friends on Wednesday 22 May from 1800 to 2100 at the Fairfield Inn Reception Room, 1795 Morris Ave., Fultondale, Alabama. In lieu of flowers as per Ron's request, a donation may be made to the Special Forces Association, P.O. Box 41436, Fayetteville, NC 29309.

William A. Curry, III , SOA #147, passed away at his home in Columbus, NE on Saturday, April 20, 2013. Bill served with RT New Hampshire in CCC during the period 1970-71. The funeral service will be Wednesday, April 24 at 10:30 A.M. at the Gass Haney Funeral Home, with military honors provided by the American Legion Hartman Post 84 Honor Guard. Visitation on Tuesday from 5-8 P.M. at the Gass Haney Funeral Home.

Stephen G. Filipetti, SOA #398, B56 (SIGMA) Recon comrade, passed away on April 7, 2013 at his home in Hoquiam, Grays Harbor County, Washington. Steve had five brothers and sisters: Kathy (Filipetti) Hill, Suzanne Filipetti, Joyce Filipetti, Brian Filipetti and Kenneth Filipetti (Joyce's twin) who passed away in 2003. Steve is survived by his wife, Bobbie (Lewis) Filipetti. Steve is mentioned in LTC Fred Lindsey's Secret Green Beret Commandos in Cambodia on page 120 on the B56 Recon roster, and on page 149 for a recon mission as One-One for an Unknown RT, receiving a BSV & PH on 5/28-30, 1968.

Paul F. Campbell, SOA #409, passed away April 1, 2013. Paul is survived by his wife, June; children, Karen and Todd; and many friends and relatives. He served with the 77th Group (1955-59); 1st Group (1959-1963); 5th & 3rd Groups (1963-66); 5th Group (Vietnam)(1966-67); 7th Group (1967-69); 5th Group (1969-70) and retired out of 7th Group in 1970.

Thomas F. Smith, SOA #138, SFC, US Army (Ret), 71 of Tampa, Florida passed away March 23, 2013. Thomas Smith contributed to changing the world in many ways ranging from helping to shape the solar home industry to how personal security is handled today. His career started in the U.S. Army where he served on Special Forces "A" Teams and was an early member of the Studies and Operations Group. After the military he moved to Japan to study martial arts where he studied under the Osensei of Aikido. Despite moving to country with any Japanese language skills, he graduated from the prestigious Sophia University in Tokyo and published books in Japanese. Following graduation he entered a think tank in Tokyo and travelled extensively doing research on emerging trends. During the time one of the emerging trends was for developing energy efficient homes and his travels him culminated with him designing and building a prototype passive solar home in Lake Tahoe. Over the next decade 1000's of his solar designs were built around the country. The homes and technology he developed were featured in many publications including but not limited to Popular Mechanics, Better Homes and Gardens, MacWorld (for being one of the very first adopters of Mac-based CAD programs for home design). Never one to sit still, he would occasionally harness his earlier special operations trainings and would routinely engage in special security cases around the world. This eventually changed his focus away from the solar home industry and into the venturous world of international security. He became business partners with the legendary Richard Meadows and worked throughout Latin America. Over the next couple of decades he would help organizations navigate through security issues (ranging from corporate security to kidnap negotiations) in some of the world's most dangerous countries. He headed up security for Fortune 500 companies and large NGO s throughout Latin America, Middle East, Haiti, and South Asia. His innovative approaches to security while sticking to the motto of "keeping things simple" have led to pivotal works in the field (videos, manuals, etc.) and his upcoming book on the subject. He was a member of the American Society for Industrial Security and a life member of both the Special Operations Association and Special Forces Association.

Michael J. Phelan Jr, SOA #1598, LTC, US Army (Ret), passed away March 14th, 2013 at Mercy Hospital Northwest in Rogers, Arkansas. Mike was born on December 3rd, 1932 in Lancaster, Pennsylvania. He enlisted in the Army during the Korean War. After the war he attended Language School (Chinese Mandarin) and was further assigned to 1st Special Forces Group on Okinawa. While assigned to 1st Group, he served several TDY tours in Vietnam with Combined Studies. Mike also served with the 1st Bn, 503rd, 173rd Airborne Brigade, and the MACV-J3 Office. During the period 1969 – 1971 he was assigned as Senior Advisor to the Republic of China Special Forces. His other major assignments were with 3rd Special Forces Group, 11th and 101st Airborne Divisions. His many awards and decorations include the Legion of Merit, CIB, Bronze Star and the Vietnam Service Medal with nine campaign stars. He was preceded in death by his wife of 22 years, Patricia, and brother James Phelan. He is survived by his beloved partner, Joan McDermitt, of Havasu City, Arizona, a former US Army Nurse who Mike met in Vietnam; two daughters, Kelly Bellers and her husband Mike of St Louis, Missouri; and Heather O'Dell of Lebanon, Missouri; and three grandchildren, Helena O'Dell and Alex and Maddie Bellers. Burial was on 19 March, 2013, with full military honors at the Springfield National Cemetery, Springfield, Missouri. Zai Jian.

William "Bill" Terrell Tibbit, SOA #78, CPT, US Army (Ret), of Fayetteville, passed away peacefully at his home surrounded by family on Saturday, March 9, 2013. William was bom on March 31, 1941, in Texarkana, TX to the late Thomas Lee Tibbit and Marguer ite Sams Tibbit. He was preceded in death by his twin brother, Thomas Gerrell Tibbit. Ret. Cpt. William T.Tibbit was Special Forces who served 3 tours during the Vietnam War; was Decorated for Valor, served 7 campaigns, and received two Purple Hearts for his honorable service to his country. His dedication continued on in the form of serving as the Vice President of Chapter I-XVIII Special Forces Association. He was the past President of the Retired Military Association. Bill was also a life member of the Special Operation Assodabon and the National Order of Battlefield Commissions. Bill is survived by daughter Kim Tibbit Simmons and husband, Jimmy Simmons of Parkton; two sons Terrell Tibbit Jr. and his wife, Denise Tibbit of Fayetteville and William "Tyler" Tibbit of Las Vegas, Nevada; one brother Bob Tibbit and his wife, Rosie Tibbit of Midfield, TX; one granddaughter Erika Jordan Simmons and fiance Chris Wright of Needville, TX; one grandson, Scott Simmons of Fayetteville; one niece and two nephews; numerous grand-nephews and nieces Services entrusted to Rogers and Breece Funeral Home, of Fayetteville, NC.

Norman Allen Doney, SOA #665, CSM, US Army (Ret), passed away February 20th 2013 in the Oregon Veteran's Home, The Dalles, Oregon. Norm had been ill for quite some time. His military service began in January 1946 when he quit high school and joined the U.S. Navy. He was discharged November 1947 and returned to high school. After graduating from High School he enlisted in the Army in March 1953. Norm had many various assignments to include the 5th Infantry Division, 82nd and 101st Airborne Divisions before he volunteered for Special Forces in 1961. His initial assignment was with 7th Special Forces Group in which he served on a "White Star" Mobile Training Team (MTT). Norm served two (2) tours of duty with B-52, "Project Delta", a tour with MACV-SOG at CCC, Kontum, and a tour with Special Mission Advisory Group (SMAG). He also served with 6th (Ft Bragg), 8th (Panama) and 10th (Ft Devens) Special Forces Groups. Among Norm's awards and decorations are the Silver Star, 8 Bronze stars for Valor & Meritorious Service, Purple Heart, CIB, 4 Presidential Unit Citations, Master Parachutist Badge and the Vietnam Service Medal with 12 Campaign Stars. He was a member of both the Special Forces Association and Special Operations Association and was very active in MIA/POW issues for both Organizations. Norm is survived by his wife Hazel Patricia (Patti), three Sons, and two Daughters.

Kenneth Moyer, SOA #1985, MSG, US Army (Ret), passed away February 11th, 2013 at Tripler Army Hospital in Honolulu, Hawaii. He had been undergoing treatment for a heart attack and heart failure. Ken was born on 9 August 1937 in Vancouver, Washington. His Special Forces assignments were with the 1st, 7th, and 5th Special Forces Groups. Ken served in MACV-SOG on two occasions: TDY while assigned to 1st Special Forces Group and again while assigned to 5th Special Forces Group. He also was assigned to STDAT (Strategic Technical Directorate Assistance Team) and FANK. Ken also served with the 505th AIR in Germany. He was a Life Member of the Special Operations Association and the Special Forces Association of which he was President of Chapter 43. Among his many awards and decorations are the Presidential Unit Citation, Bronze Star, Meritorious Service Medal, ARCOM w/V Device, CIB, and Master Parachute Badge. He is survived by his wife Emiko (Amy); two sons: Mark and John; one daughter Paula; four grandchildren: Lukas, Naomia, Alexandria and Marcus. Funeral Services are scheduled for March 24th in Hilo, Hawaii.

Robert L. Cavanaugh, SOA #75, passed away January 30, 2013.

Regis H. Murphy, Jr., SOA #2657, passed away January 15, 2013.

William G. Bowles, SOA #3041, SGM, US Army (Ret) passed away December 8, 2012 at a medical facility in Atlanta, Georgia. He had been undergoing treatment for cancer. Billy was born on the 22nd of August 1930 in Alabama. He entered the Army in 1948 and spent subsequent tours in Germany. His first Special Forces assignment was with the 77th Special Forces Group during which he was further assigned to "White Star". His next assignment was 1st Special Forces Group on Okinawa. While assigned to1st Group, he served three TDY tours in Vietnam, two with Combined Studies, and one with 5th Special Forces Group. Billy also served with the 6th Special Forces Group and the 8th Special Forces Group (Panama). He returned to the 5th Special Forces Group in Vietnam and served as the Sergeant Major of MACV Recondo School. His many awards and decorations include the Purple Heart, and CIB. He was preceded in death by his daughter and wife Erma. He is survived by a step son and step daughter. Burial will be held at Arlington National Cemetery on Tuesday, February 19, 2013 at 1500 with full Military Honors.

James P. Monaghan, SOA #27, Captain, US Army, (Ret) passed away on December 7, 2012 at St Mary's Hospital in Long Beach, California from complications relating to exposure to agent orange. Jim was born on the 9th of August 1936 in Philadelphia, Pennsylvania. He entered the Army in 1953 and his first major assignment was to the 557th QM Co (Abn), an Aerial Delivery Unit in France. His Special Forces Assignments started with the 7th Special Forces Group at Fort Bragg. Then to 1st Special Forces Group Okinawa, Vietnam (A-421 Plei Mrong 1963, A-422 Ashau Valley 1964), and the Republic of China (Taiwan); 3rd Special Forces Group; 5th Special Forces Group (III Corps Mike Force A-302 1966; SOCPAC Okinawa; 10th Special Forces Group Germany; 5th Special Forces Group (B-56/Advisor to Team 162 Delta Project changeover to 81st Airborne Ranger Group 1970); 1st Special Forces Group Okinawa A-323 (SCUBA) and Army Readiness Region IX Presidio of San Francisco as Senior Enlisted Advisor to 3rd Bn, 12th Special Forces Group. His many awards and decorations include the Silver Star, Soldier's Medal, Purple Heart w/2 OLC, ARCOM w/"V" Device, Presidential Unit Citation, Meritorious Unit Citation, Combat Infantryman's Badge, Vietnamese Service Medal w/6 Campaign Stars, Master Parachutist Badge, SCUBA Badge, Vietnam Cross of Gallantry w/Palm, Vietnam Cross of Gallantry w/Silver Star, and Vietnam Parachute Badge. Jim was President of Chapter 2, Founding Member of Chapter 23, and a member of Chapter 43, Special Forces Association. He was also the second President of Special Operations Association. After his retirement in 1978 Jim was the Military Advisor in the production of the movies "Wild Geese 2", "Blue Skies", "Body Snatchers" and had a part in the movie "Chips and the War Dog". Jim is survived by his former spouse Marie (they were planning to get remarried); two daughters, Helen Monaghan, Patricia Monaghan Wilson; two granddaughters, Amanda, Angie; one great granddaughter, Aubrey. There are tentative plans for a Memorial Service to be held at Fort Bragg. Burial will be held at Arlington National Cemetery at a date to be determined and announced by the Arlington Cemetery. James P was noted for always saying: "You might be out of sight, but you are never out of mind".

Robert William Dewey SOA #695, MSG, US Army (Ret), passed away on 1 December, 2012 in Fountain, Florida. Bob was born 3 September 1923. He was laid to rest 6 December 2012 at the Barrancas National Cemetery, Pensacola Naval Air Station. His Special Operations Career began in Korea with assignment to the 8240th AU (UNPIK) where he served as a Medic. Bob also served in the 77th, 7th and 1st Special Forces Group. While assigned to the 1st Group on Okinawa, he was further assigned to the Taiwan Resident Team. His medical Education included: PhD International Health, Nova Colleges, England, 1984; MPH Epidemiology UnivPittsburgh, 1970; BS Microbiology Univ Arkansas 1966. Professional Memberships: American Public HealthAssociation; Malaysian Society of Parasitology & Tropical Medicine; National Council for International Health. Military Affiliations: Special Forces Association; Combat Medic Association; and VFW. Bob served in World War II from 1943-45 as a medical aid-man with the 13th FA Observation Bn in Europe where he received the Bronze Star. He also was awarded the Combat Medical Badge for his service in Korea. After attending college in Arkansas he became the NCOIC of the Dept of Epidemiology, SEATO Medical Research Lab in Bangkok where he studied the epidemiology and ecology of plague in Vietnam and plague surveillance and epidemiology and control of dengue fever and epidemiology of Reyes Syndrome in Thailand. He retired from the military in 1969. After military retirement, he taught and worked at the University California, San Francisco and also did more research on dengue fever and other diseases endemic to SouthEast Asia. He later moved to East Carolina University School of Allied Health and Social Professions, where he was an assistant professor of Community Health. Moving to Bay County Florida in '74, he taught high school biology and science. He went back to Thailand where he was a Peace Corps volunteer working as adviser and consultant to the Director of Rural Health Research and Training Center and also was on the faculty of Public Health, Mahidol University. He remained in Thailand until June '86, where he did much public health service and continued with his research. Returning to Florida, he volunteered at the Museum of Man in the Sea and did much research in the field of diving medicine as well as volunteering in other areas. In '89-'90 he went to Papua, New Guinea where he was the Project Concern International Country Director and Woman's Health Care (Child Survival) program. He is the author or co-author as well as presenter, of many medical and research papers. Robert is survived by his wife Sirion and three adult children and one stepson. Bob is well known by SFA members not only for his service, but also for the many years he sponsored the Panama City Beach Bash which was attended by SFA members from all over the country.

Warren E. (Ed) Fisler, SOA #1933, MSG, USA (Ret) passed away November 15, 2012. He was born May 18, 1935 in Millville, New Jersey enlisted in the Army on February 4th, 1952. Served 23 years retiring as a Master Sergeant in August 1975. After basic training at Fort Leonard Wood, Mo. was assigned to Regensburg,Germany with the 485th Combat Engineers as a demolition specialist and radio operator. Entered Special Forces training in March 1960 and assigned to the 7th Group until 31 December 1962. On 1 January 1963 was assigned to the 8th SFGA in Panama until June 1965. First Vietnam tour was July 1965 to June 1966. Was assigned to the 10th SFGA in Bad Tolz, Germany thru December 1968. A second Vietnam tour was from February 1969 thru September 1971 with the 5th SFGA Project Gamma and B-53. Then an ITT to the 46th Company in Thailand from September 1971 to September 1972. Was assigned to the 46th Co. SCUBA team for three months and then assigned to special projects for nine months. After leaving Thailand, Mrs. Billie Alexander said he had to go back to the USA for a hardship tour. Was assigned to Fort Devens, Ma. With the 10th SFGA until retirement in August 1975. After retirement, and finishing a year of college, accepted contract employment with the U.S. Government in Central America from 1979-1981. Futher employment was accepted overseas in Kuwait as an ordinance disposal specialist in 1997 to 1998. Military education: 16 weeks basic training, Combat Engineer, VII Corps Signal School (CW),Field Radio Repair, Airborne, Special Forces/RTO and other SF commo courses, SCUBA, Jumpmaster, Special Forces Operations and Intelligence and SADEM. Awarded the Bronze Star, Air Medal and 16 other medals, ribbons and citations. CIB, Master Parachute Badge, Scuba Badge, Special Forces Tab and five foreign parachute badges

Kenneth F. Kubasik, SOA #874, passed away November 15, 2012.

Armando A Canales, SOA #980, SGM, USA (Ret) passed away October 30, 2012.

David Ray Robinson, SOA #2584, passed away October 27, 2012 in Memphis VA Hospital. He served in MACV-SOG with RT Bushmaster and Oregon and as NKP medic.

John Flanagan, SOA #1887, BG, USAF (Ret) passed away October 21, 2012. John was born and raised in White Plains, NY where he graduated from Archbishop Stepinac High School. He then attended the University of Pennsylvania for one year before receiving an appointment to the United States Air Force Academy in 1958. While at the Academy, John was a member of the Academy's undefeated football team that was ranked 6th nationally and played in the Cotton Bowl. John majored in political science and graduated in 1962 as a second lieutenant. He immediately entered pilot training, and upon graduation, was assigned as a combat crewmember at Otis AFB, where he began his life-long love affair with Cape Cod. In 1965, in the very early stages of the Vietnam War, John was among the first to answer the call to combat, volunteering for duty as a Forward Air Controller supporting elite Army units in close combat. John flew over 300 combat missions and, in recognition of his heroism and gallantry, he was awarded the Silver Star, two Distinguished Flying Crosses, twelve Air Medals and the Vietnamese Cross of Gallantry. General Flanagan left the active Air Force in 1968 but continued his military career in the New York Air National Guard in a succession of key command positions in flying operations. In January 1986, he was appointed the Deputy Commander of the 6000 member New York Air National Guard and was promoted to Brigadier General in March 1989. John retired from the military in 1995 after 33 years of active, reserve and standby reserve service. He was a Command Pilot with over 4400 flying hours and, at the time of his retirement, was the most highly decorated officer in the New York ANG. John was equally distinguished and accomplished in his parallel business career where he held a series of demanding jobs in the transportation industry. He played an essential role in the introduction of the 747 airliner into commercial service with American Airlines; served as CFO of a Hertz trucking company in Europe; as Vice President and Treasurer of Holland America Lines; and in liquidating, as a Trustee, a failed common carrier. General Flanagan held an MBA from Boston College, is a graduate of the National Defense University and a Distinguished Graduate of the Air War College. He was an accomplished author and sought-after military commentator. His seminal work, "Vietnam above the Treetops", chronicled his exploits as Forward Air Controller in combat and was a Military Book Club main selection. His radio and TV interviews on military affairs have been featured on broadcast networks. Upon moving permanently into his Cape Cod summer home in Falmouth, John served as a Professor of Transportation and Logistics at Massachusetts Maritime Academy. He reveled in this job because it allowed him to share the importance of duty, integrity and commitment with the midshipmen he was instructing. John always emphasized the importance of community service and involvement as well as the virtue of giving back to society. He twice ran for Congress in New York; he has been a major financial benefactor of the Air Force Academy; and has generously donated his time and effort to Otis-related community service activities; the Wounded Warrior Foundation, as well as serving as the Chairman of the Falmouth Transportation Commission. An avid golfer, he organized the first and now annual TGC for the Troops charity golf tournament at his beloved home course, The Golf Club of Cape Cod in Falmouth. John has skied the Alps; soared the Rockies; surfed the Pacific; golfed in Bermuda; and parachuted into the South China Sea- feats most people only read about. But he never lost sight of the importance of nurturing and protecting his family and friends. In this vein he will be remembered for his bright blue eyes, his wry Irish smile and his open extended hand to those he felt he could help. John made all who knew him better and his memory will long endure. John is survived by his wife, Mari Jo Flanagan of Falmouth; his daughters Regina Flanagan of San Francisco, CA and Monica Flanagan Dapolito of Patterson, New York; his stepson, Lt. Colonel Nathan Scopac of Alexandria, VA; and his grandchildren, James Dysart and Noah and Olivia Scopac.

Gil Apodaca, SOA #88, passed away on October 12, 2012. As he requested, he was in the presence of his family and close friends and at his home in Oceanside in the hour of his passing. He left the earth quietly and peacefully. A career military man and special operations soldier (Green Beret), the sergeant was finally overwhelmed by AML (acute myeloid leukemia) -a cancer of the blood. The disease rapidly advanced over a 2-month period to eventually take his life. This was his third bout with cancer. Guilibaldo was the second son born to Francisco and Maria Luisa in El Centro, California. He was raised in the barrio of Carlsbad during WWII. His family included four brothers and three sisters. Guili attended Pine school in Carlsbad and Oceanside High School. But while in high school, he was compelled to serve our country and joined the military. His first military service was with the U.S. Marine Corp Reserves where he was sent to boot camp in San Diego. He was released from the Marines shortly after boot camp with a minority (underage) discharge. In January of 1951 Guili enlisted with the Army and was sent to basic training in Camp Roberts. He was then ordered to combat service in Korea. Upon his return from Korea, he was ordered to Fort Bragg, North Carolina in June of 1952. A year later he volunteered for airborne service with the 82nd Airborne Division. In early 1957, He was ordered to Germany and spent 3 years with the 3rd Army--Armored Field Artillery stationed in Budiegen. In 1960, he returned from Germany to Fort Bragg, North Carolina and was reassigned to the 82nd Airborne Division. In July 1962, Sergeant Apodaca volunteered for the Army Special Forces group, which gained prominence and presidential support as a tactical guerrilla force during John Kennedy's presidency. He went through rigorous training to earn his elite warrior status and prestigious "Green Beret". He was attached to the 7th Special Forces group in Fort Bragg. Sergeant Apodaca served in the Viet Nam conflict in 1964 stationed in Pleiku and again in 1968 and 1969 (12mos)—when the conflict was most serious. At this time he was with the 5th Special Forces Group. The Viet Nam conflict intensified during this period with the "Tet Offensive" that brought significant numbers from North Viet Nam to the South. Sergeant Apodaca was stationed Bhami Tut in the central highlands of South Viet Nam and was attached to the Special Forces Group's MAC-SOG. It was not uncommon for this detachment to venture into Laos and Cambodia for reconnaissance missions of enemy activities. Later, in this tour Sergeant Apodaca was involved with prisoner recovery operations operating from Saigon. In between the Viet Nam tours, Sergeant Apodaca was ordered to Panama, Canal Zone (1965-1968 and 1969-1971) and served the country with the 8th Special Forces Group. This service period took him to many Central and South American countries where he trained foreign military and performed other clandestine operations for the U.S. government. Sergeant Apodaca retired from the military in 1971 and achieved the rank of Master Sergeant (E-8). He closed his career in Fort Bragg North Carolina with the Special Forces. He returned to California in 1973 and later began a second career with the City of Vista-Public Works division. He eventually worked his way to supervisor role starting in the Parks department and completing his career with Streets maintenance department. During this period Gil performed a leadership role in the employee's union and was involved with union contract negotiations. Guili (Gil) met the love of his life Hortencia "Tencha" Granados from Vista while they were both in high school. The year was August 11,1950. The passion of their romance was so compelling that Tencha joined Gil in his military life as wife and lifetime partner. They were married in Yuma, Arizona on August 23rd, 1953. Three children were born of this love, Michael Dennis, Gil Charles, and Cynthia Ann. Gil and Tencha recently celebrated their 59th wedding anniversary last August 20th. Gil valued his family and it was the primary focal point of his life. He enjoyed spending time with his grandchildren and great grandchildren especially watching their sporting events. In retirement, Gil maintained relationships with his military comrades. He was involved with Retired Special Forces Southern California Chapters 12 (Orange County) and 75 (San Diego). He was also an honorary member of the Coachella Valley Airborne Association. In the end Gil has inspired his family with leadership and courage and will leave a proud legacy. For those whose lives he touched, he is remembered for his ability to easily engage others especially through humor. He is also remembered for his work ethic, creativity, and his ability to teach others to work and perform well together as a unit. Recognizing the value of education, one of his proudest achievements was to assist his granddaughter Felicia in the pursuit of her bachelor's degree, which she earned last spring. Gil is survived by his wife Tencha and three children Michael Apodaca, Gil Apodaca and Cindy Villalpando; brothers Gus Apodaca, Alfred Apodaca, and Jerry Apodaca; sisters Mary Hoover and Nancy Ridgeway. His surviving grandchildren include: Alexander Apodaca, Anthony Villalpando, Mariel Apodaca, Adam Apodaca Felicia Villalpando, and Andrew Apodaca. Surviving great grandchildren include: Anthony Villalpando Jr., Jordan Apodaca, Malia Villalpando, Makayla Villalpando, and Azalea Apodaca. Daughter-in-laws Rose Apodaca, Stephanie Apodaca, and son-in-law Jaime Villalpando also survive him. He is further survived by a large extended family of nieces, nephews, grand and great grand nieces and nephews. Preceding Gil in death are his beloved mother Maria Luisa Apodaca, father Francisco Apodaca, uncle Phillip Cabrera, sister Jenny Abdulla, brother Gilbert Apodaca, sister-in-law Clairie Apodaca, nephew Ronnie Apodaca, and great grandson Austin Villalpando.

Maurice T. "Red" Davis, SOA # 2160, passed away October 11, 2012 at the age of 81. Because of his red hair, he was known to his friends as "Red". Red was born in Red Bluff, California on September 20, 1931. Red was the oldest of four brothers and one sister. He grew up in Northern California and moved to Oregon in 1977. Red received an Associate's Degree from Shasta College in Redding, California. Red entered into the California Army National Guard in 1950 and spent ten years in the Guard and Army Reserve before entering the Active Army in 1960. Red served ten years in the Active Army including three tours in Viet Nam. He retired from the Army after 20 years of combined service at the rank of Major with the U S Army Special Forces (Green Berets). Red worked as a tractor foreman and later a tour bus driver. Red learned several languages including Spanish, Tai, laotian, Korean and Viet-Namese. Red had a strong personality and could be very charming when he wanted to be. Red would want to be remembered as a hardworking man, who loved his family and served his country honorably. Red is survived by his wife Nancy, after 59 years of marriage and six son's Trow, Pete, Chris, Jack, Shawn and Jeff. Red also had thirteen grandchildren and two great grandchildren. Red touched many people in his life and he will be missed.

Ronlad L. Olson SOA #2651, passed away September 20, 2012.

Jack G Halladay, SOA #2905, SGM (Ret), passed away on September 12, 2012.

Mitch Bacher, SOA #2769, passed away September 2012.

Charles W. Bacon, SOA #1325, passed away July 14, 2012 at age 72.

Thomas S. Myerchin, SOA #2872, COL, US Army (Ret), Family man, scholar, soldier, and hero...died Tuesday, May 15, 2012 in Goodlettsville, TN. This gracious, caring and generous man was guided throughout his life by a strong and abiding faith. Col. Myerchin, U. S. Army retired, served his country courageously for thirty-one years in the Special Forces; and continued to serve his fellow soldiers through at least five different volunteer groups in Middle, Tennessee. Myerchin was the second son of Joe and Laura Myerchin of Grand Forks, North Dakota. He is survived by his devoted wife, Barbara LaFollette Myerchin; son and daughter-in-law, Thomas Schiller Myerchin, Jr. and Cinthya Blanchard of Port St. Lucie, FL; brothers, John and William Myerchin; sister, Catherine Erickson; and numerous nieces and nephews who loved and admired him.

Hue V. Tran, SOA #1133, passed away on April 16, 2012 In Los Angeles County, California.

Jack L. Bonner, SOA #2410, passed away April 5, 2012.

Earl Trabue, SOA #1056, LTC (Ret), passed away April 1, 2012 in Albany, OR.

Lyle G. Sloan, SOA #1509, passed away March 9, 2012.

Alvin Davis III, SOA #2998, 1Sgt (Ret), 65, of Fayetteville, died Wednesday, Feb. 8, 2012. Services: Memorial, 2 p.m. Monday in Special Forces Association Lodge. Survived by: Wife, Melinda; sons, David Holcomb, Shawn, Michael and Benjamin; daughter, Cynthia Holcomb; brother, Christopher; and sisters, Lauralee West and Patrice Derantany. Rogers and Breece Funeral Home of Fayetteville.

Rex L. Jaco, SOA #2082, passed away on Jan 28, 2012.

Kenneth E. McMullin, SOA #127, SGM (Ret), passed away on December 25, 2011. He was born in 1940 in California. He enlisted in the California Army National Guard on February 21, 1960, and went on active duty in the U.S. Army as a Combat Engineer on December 31, 1962, serving until December 14, 1965. SP5 McMullin served in the U.S. Army Reserve from December 15, 1965, until returning to active duty on January 31, 1966. His next assignment was as a Demolition Specialist with Company E, 7th Special Forces Group at Fort Bragg, North Carolina, from April to December 1966, followed by service as a Demolition Sergeant with Company B, 5th Special Forces Group in South Vietnam from December 1966 to October 1967. Sgt McMullin served as an Operations Sergeant with the 5th Special Forces Group in South Vietnam from October 1967 to September 1969, and then as an Intelligence Sergeant with the 46th Special Forces Company in Thailand from September 1968 to October 1969. His next assignment was as an Operations and Intelligence Sergeant with the 6th SpecialForces Group at Fort Bragg from October 1969 to January 1970, followed by service with Company C, U.S. Army Special Forces Training Group at Fort Bragg from January 1970 to March 1971. During this time, SSG McMullin served on Action Element #2 with the Blueboy Assault Group during the Son Tay Raid, a clandestine mission to rescue American Prisoners of War in North Vietnam on November 21, 1970. He served as a Reconnaissance Team Leader and Airborne Controller with the U.S. Army Vietnam Training Advisory Group in South Vietnam from March 1971 to February 1972, and then served as an Intelligence NCO and Training NCO with the 46th Special Forces Company and the U.S. Army Special Forces Training Group in Thailand from February 1972 to March 1973. His next assignment was as the Senior Special Forces Instructor with the Special Forces Detachment at the U.S. Army Institute for Military Assistance at Fort Bragg from April 1973 to March 1975, followed by service as Operations Sergeant and then Assistant Chief Operations NCO with the 82nd Airborne Division at Fort Bragg from March 1975 to November 1976. MSG McMullin served as an Operations Sergeant with Company A, 3rd Battalion of the 5th Special Forces Group at Fort Bragg from December 1976 to August 1982, and then as Operations and Training NCO with Headquarters Joint Special Operations Command at Fort Bragg from August 1982 to September 1984. His next assignment was as Detachment Sergeant Major and then Company Sergeant Major with Company A, 3rd Battalion of the 7th Special Forces Group at Fort Davis, Panama, from September 1984 to December 1989, followed by service as Company Sergeant Major with Company B, 1st Battalion of the 7th Special Forces Group at Fort Bragg from January 1990 to January 1991. His final assignment was as Battalion Command Sergeant Major with 2nd Battalion of the 3rd Special Forces Group at Fort Bragg from January 1991 until his retirement from the Army on November 1, 1992.

Vernon Fredrick "Fred" Winters, SOA #386, of Port Charlotte, FL passed away December 6, 2011. Born Sept. 3, 1946, in Akron, Ohio, to Vernon and Harriet Winters. he lived all over the world as his father spent a lifetime serving in the Army. Winters himself served 27 years in the U.S. Army Special Forces. He was a decorated veteran with honors including the Silver Star, Legion of Merit, four Bronze Stars, including one with valor, and two Purple Hearts. He also held a master's degree in marketing. Fred spent his last years as a fishing guide and professional angler in the IFA, FLW and ESPN Redfish Cup.

Carl (Ed) Evanhoe, SOA #1069, formerly of Topeka, KS, passed away on October 13, 2011 in Antlers, OK. He was born April 4, 1932 in Henryetta, OK to Bernard M. (Bob) and Clara M. Evanhoe. He joined the US Army in late 1949 serving until 1966 and was a veteran of the Korean War. He had numerous commendations and awards, most notably the Korean Partisan Honor Medal, awarded to Korean and American personnel who served with the 8086th and 8240th Army Units during the Korean War. He was life member of the Veterans of Foreign Wars and Special Operations Association. After leaving the Army, he worked in construction until his retirement. Ed was married to Delpia Turner Evanhoe in 1972. She survives along with his three children from his first marriage to Kyoko Takata, Charles E. (Chuck) Evanhoe of Dayton, OH; Mark E. Evanhoe of Topeka, KS; Michiko (Michi) Snell of Topeka, KS and five grandchildren. His remains were interned at Mt. Hope Cemetery in Topeka, KS with his parents.

James (Jim) McElroy, SOA # 684, passed away Wednesday, October 12, 2011. He was born in Norton, VA on February 25, 1939, the son of the late Lester and Paralee Hill McElroy. Jim moved to Gate City in 1950. He was a Shoemaker High School graduate and attended Fork Union Military Academy on a football scholarship playing for two years and becoming captain in his final year. Upon graduating from Fork Union Military Academy in 1958, he attended the University of Mississippi, also on a football scholarship, before entering the United State Army during the Vietnam War. He became a paratrooper, a Ranger, and a Green Beret having served with distinction. In addition to his parents, he was preceded in death by his brother, Albert Nicholas (Nick) McElroy and nephew, Corey McElroy. He is survived by his sons, Cortney (Cort) McElroy, Phoenix, AZ and Carter McElroy and wife, Pam, San Diego, CA; sister, Patsy Durham and husband, Roy, Gate City, VA; sister-in-law, Nancy B. McElroy, Weber City, VA; fiancée, Katherine Tignor, Gate City, VA; niece, Christy McElroy Bradshaw and husband, Taylor, Gate City, VA; nephew, Brent Montgomery and wife, Kristen; one great niece; 6 great nephews; a step niece and step nephew.

Joseph Son Van Le, SOA #2782, passed away September 12, 2011. He was born 1948 in North VN. In 1954 his family moved to South VN in order to escape the communist regime. He joined SOG in 1967, was trainined at Long Thanh, Kham Duc VN., and was transferred to FOB #3 Command & Control South (CCS). He became a Spike Team member of Spike Team Measure. He ran many reconnaissance missions and was lightly wounded several times. He ran so many missions, he was a real hero for C&C Detachment, 5th Special Forces (Airborne) in VN. In April 1972 Son was honorably discharged from Special Forces and went back to his home in Dalat. After April 1975 when the NVA took over SVN, Son and his family's lives were threatened by the communist government; they were hidden and were anxious for their family because he served in SOG.

Derald R. Bunnell, SOA #1243, passed away Thursday, Sept. 8, 2011.

Allen Terrell "Thom" Thompson III, SOA #1941, LTC (Ret), age 71, of Blue Ridge, GA passed away Tuesday, September 6, 2011. He was a member of Alpharetta Presbyterian Church. Lt. Col. Terrell was the only officer to have dual command of the Desert and Mountaineering phases of Ranger School and 5th RTB based at Camp F D Merrell in Dahlonega, GA. He served three tours in Vietnam as a Green Beret earning three Bronze Stars, one Silver Star and an Air Medal. He was a Jumpmaster with the 82nd Airborne and he served with Delta Force, 5th Special Forces Group, 12th Special Forces Group, 2nd Ranger Battalion, 172nd Brigade. He also served as Commander of the 32nd Battalion of the 7th Infantry Division and was a member of the 23rd Infantry Division and the 75th Rangers 5th Battalion. He was a soldier's soldier. Survivors include his loving wife of 50 years, Virginia Terrell of Macon; daughter and son-in-law, Lisa and Matt Nyberg of Lincoln, NE; their daughters, Catherine and Sarah; son and daughter-in-law, Chip and Dee Dee Terrell of Dawsonville and their daughters, Morgan and Chelsea.

Donald J. "Corky" Shelton, SOA #2237, MSG (Ret), passed away July 31, 2011 at the age of 65. He served in the U.S. Navy and U.S. Army Special Forces with numerous decorations, medals, and citations. He was a Vietnam veteran. He is survived by his wife and two sons.

Maurice L. Brakeman, SOA #1408, MSG (Ret), passed away June 28, 2011 in Coeur d'Alene, Idaho. Brake enlisted in the Army in 1961 and was assigned as signalman and radio operator in the 25th Infantry Division. After spending 5 months in Thailand, Brake volunteered for a three month 'shotgun' assignment to Vietnam as a door gunner out of Pleiku. He saw extensive combat during this short tour and earned three air medals. He also became acquainted with Special Forces operations in II Corps and re-enlisted for Airborne and Special Forces in 1964. After graduating from the SF weapons course, Brake spent 18 months with the 10th SF Group in Bad Toelz. In January 1966, Brake reported to the 5th SFGA in Vietnam and volunteered for Project Delta. Brake was wounded, impaled on a punji stake while inserting on a recon mission, and evacuated to the States. Upon his recovery he was sent to language school and on to the 8th SF Group in Panama. His next assignment was with B Co., 75th Rangers at Fort Carson. From there it was back to Vietnam in January 1970. Brake again volunteered for another tour with Project Delta and remained with them until the Project closed down in June. He had the distinction of running the last recon mission of the Project's history with Roy Sprouse out of FOB Mai Loc. After the Project shut down, Brake went to the 5th Mobile Strike Force, B-55. He remained there for the balance of his tour. After stints with the 19th Special Forces Group in Missoula and the JCRC (Joint Casualty Resolution Center) in Thailand, Brake returned to Vietnam for the fourth time. It, too, was a JCRC assignment that quickly turned into a planning mission for the evacuation of the civilians remaining in country. His last task was the gruesome search and recovery of remains from the evacuation flight of civilians and children from Saigon that crashed during an emergency return after takeoff. Brake was again medically evacuated, suffering chemical burns from hydraulic fluids leaked during the crash. Brake finished his career with assignments to a refugee camp in Thailand; another tour with the 10th Group as team sergeant for ODA 7, the SADM team; and a final assignment as ROTC instructor in Moscow, ID. Maurice Brakeman requested no formal service and his cremated remains were scattered on the Moyie River in northern Idaho, close to his home, on 30 June. MSG Brakeman is survived by brother Errol Brakeman, and children; Traci Jones, Marion "Erik" Brakeman (CSM) , Tanya Brakeman, and Matthew Brakeman.

Robert R. Brown, SOA #2157, age 78, of Jackson died Sunday, May 15, 2011 at Leisure Chateau Care Center in Lakewood. Born in Brooklyn,NY, he spent time there and Brockton, MA as a child. When he joined the service he traveled to Germany, England, Korea,Vietnam and all over the United States. Bob lived in Lakewood for 24 years before moving to Jackson 2 years ago. Bob served in the US Army for from 1951-1974 serving in both the Korean and Vietnam Wars. He was a scout dog handler with the 39th Infantry Platoon in Bien Hoa, Vietnam with his dog, Budda and received many military medals including a Bronze Star. Bob was a very talented Pen & Ink artist, and was a guest artist for Marvel Comics, drawing Conan the Barbarian and The Submariner. Most recently, he worked as a Housekeeping Supervisor for Deborah Heart & Lung Center in Browns Mills for 12 years. Bob was a member of the Vietnam Dog Handler Association and a Life Member of the Special Operations Association. He was a great husband and lived a full and colorful life. Bob was predeceased by his parents, Walter and Margaret (nee Coughlin) Brown. He is survived by his wife, Alexa Michel; a sister, Barbara Sheridan and several nieces and nephews.

John R. Perchard, Jr, SOA #341, LTC (Ret), passed away on May 09, 2011 at his home in Marston Mills, MA.

George W. Petrie, Jr., SOA #818, MAJ (Ret), passed away on April 15, 2011. He was born on June 21, 1939, in Lenoir, North Carolina. He enlisted in the U.S. Army on June 23, 1958, and attended basic training at Fort Jackson, South Carolina. After completing Jump School he was assigned to the 319th Field Artillery Battalion of the 82nd Airborne Division at Fort Bragg, North Carolina. From 1959 to 1960, Petrie was assigned to the 20th Field Artillery Battalion of the 1st Cavalry Division, and he then served with the 503rd Airborne Infantry Battalion of the 82nd Airborne until 1961. Sgt Petrie next served as a radio operator and light weapons specialist with the 5th Special Forces Group from 1961 to 1963, and he was deployed to the Republic of Vietnam in 1963. He then served with the 8th Special Forces Group in Panama, deploying to the Dominican Republic in 1965, followed by another tour in South Vietnam with the 5th Special Forces Group from 1967 to 1968. Petrie then served with the 3rd and the 6th Special Forces Groups, receiving a direct commission to 1st Lt on January 23, 1970. Lt Petrie participated in the Son Tay Raid on November 21, 1970, and was the first person on the ground after the controlled crash landing of his HH-3E. He again served in Vietnam in 1971 where he participated in various Bright Light missions to recover POWs. Capt Petrie was assigned to the 5th Special Forces Group from 1971 to 1973, and served in Southeast Asia with the Joint Casualty Resolution Center from 1974 to 1975. During this time, he helped plan the evacuation of Saigon and was on one of the last helicopters out of the American Embassy. His next assignment was as Operations Officer for the 35th Infantry Battalion of the 25th Infantry Division at Schofield Barracks, Hawaii, from 1975 to 1976, followed by service back at the Joint Casualty Resolution Center at Barbers Point, Hawaii, from 1976 until his retirement from the Army on June 1, 1980. After retiring from the Army, George worked for Electronic Data Systems with Ross Perot in Dallas, Texas, and also for various Law Enforcement agencies in Texas. During this time, he also owned a Private Investigation and Security Company and was the President of Chapter 31 of the Special Forces Association for 19 years. In 2007, George was awarded the Gold Order of Saint Philip Neri, the U.S. Army Special Forces' highest award for his accomplishments in the Special Forces. He was buried at the Dallas Fort Worth National Cemetery in Dallas, Texas, on April 27, 2011. His awards include Two Silver Stars, the Legion of Merit, Two Bronze Stars one with V, Two Purple Hearts.

Dennis C. Davis, SOA #451, a retired hotel management professional, passed away Friday, March 11, 2011. Dennis was born May 12, 1946, in Payson, Utah, to Albert and LaVerta Davis. After graduating from Spanish Fork High School, he joined the U.S. Army and proudly served his country in Vietnam. Dennis then moved to Las Vegas in 1970 to attend UNLV where he earned his BS degree in hotel administration. This began a 30 year career in the Las Vegas hospitality industry where he worked in various hotel management positions at the Landmark, Aladdin, Maxim, Boomtown, Stardust and Imperial Palace Hotels

John Throckmorton, Jr, SOA #2762, 68, of Port Charlotte, Florida died of a massive heart attack on February 17, 2011. He was in his home in Port Charlotte when he passed. His remains were cremated by the Southeastern Crematory on 17 March 2011. Jack was born in Marshfield, Oregon on 24 Dec 1943. His father was John Throckmorton, Sr. of Richmond, Va. and his mother was Ruth Aid of New Cumberland, Pennsylvania, both now deceased. Jack is survived by his ex-wife - Jane Miller of West Palm Beach Florida whom he married in 1983. He is also survived by his two twins: daughter Amanda, son Ross - both 28 and older son Miles 34. They all currently reside in the Palm Beach area of Florida. Jack graduated from Davidson College in North Carolina in 1965. He joined the Army as a private in 1964. He completed Officer Candidate School in 1966 and was commissioned a 2nd Lieutenant. He then was promoted in rapid succession to 1st Lieutenant, Captain and Major - all in the U.S. Army Ordnance Corps. While in the military, Jack's main focus was on nuclear Weapons Storage and Planning. Later, Jack served a tour in Vietnam during 1966-67 and developed a close association with U.S. Army Special Forces Camps in the III Corps Tactical War Zone. He directly supported the III Corps Mike Force (Detachment A302, - 3rd Nung Battalion, Abn.) by participating in their patrols deep in VC and North Vietnamese Army strongholds. While in several of these firelights, he assisted in the extraction of a number of Special Forces personnel from extremely deadly situations. He personally suffered wounds while assisting the extraction of specified patrol elements - and he saved lives. His broader mission while in Vietnam was to develop and test experimental munitions for infantry units. These included enhancements to the existing "Claymore Mine" and various alternatives for achieving mass enemy casualties. Finally- at the end of his military career, he was one of only six commanding officers-Army wide-to command field nuclear weapons (Supply Ammunition) companies in the U.S. Army. Jack left the Service in 1971 when he resigned to become more involved in maritime operations and more importantly - seamanship. In the years 1970's through 2011, Jack crewed on custom sport fishing boats from Ocean City, Maryland to Key West, Florida and the Bahamas. He obtained a U.S. Coast Guard Captain's license, and captained for researchers in the first Woods Hole Oceanographic Institute effort to tag and study the migration of juvenile Atlantic Blue-fin tuna. He captained sport fishing boats and motor yachts for various yacht brokers, Fortune 500 corporations and private individuals, both U.S. and foreign. Jack most often - operated in the waters off Canada, the Atlantic seaboard, the Gulf of Mexico, the Quintana Roo, Mexico, the entire Bahamas, the Turks and the Caicos, Cuba, Hispaniola, Puerto Rico, Virgin Islands, East Coast of Nicaragua and the Sea of Cortez. He made numerous long range U.S. and foreign cargo deliveries through Atlantic and Gulf Intracoastal Waterway trips. Jack provided services in the areas of crew management, safety, logistical planning, communications and negotiation with foreign officials, and other duties consistent with the prudent and seamanlike operations of sea-going vessels. He loved the sea and all duties associated with being on the water! Jack's professional maritime awards were well earned and publicized. He was recognized by the State of Florida and the National Maritime Association for Jack also earned kudos for his service in the Vietnam War. His military awards an decorations include; the National Defense Service Medal with Oak Leaf Cluster, the Vietnam Service Medal, Republic of Vietnam Campaign Medal with 60 dev the Army Commendation Medal and the Good Conduct Medal (two awards). More recently, he became an amateur military historian who reconstructed numerous combat events of unique Special Forces Units, This research provide Army Decorations Boards with the evidence to identify various Army heroes for eventual recognition in dispatches. Jack's ashes were spread on the waters off Port Charlotte on 15 April 2011 where he often sailed while the Captain of commercial vessels. The remainder of his ashes were spread in the desert near Las Vegas, Nevada in September 2011.

Dallas Longstreath, SOA #1207, passed away Tuesday February 8, 2011 at Audie Murphy V.A. Hospital in San Antonio, Texas. He was a long time member of the Special Operations Association. I was unaware of the heroic actions of Dallas Longstreath III since he never spoke of his deeds in Vietnam. It was quite evident by the number of telephone calls and emails that he had been instrumental in saving many lives of SOG personnel while acting at "Covey" for many recon insertions. Dallas was an unpretentious, selfless and a true "quite Professional". It was a pleasure knowing him for many years and we will cherish his memory forever. It was my distinct honor to render the eulogy at his memorial service. I was asked by John S. (tilt) to read a letter that he wrote about his long time friend; he wrote, At last year's SOG reunion, I proudly introduced Dallas to my wife as the man who had saved my life on my last recon mission that I ran with CCN in April 1970. On that mission, we had a four-man team inserted into the A Shau Valley. Within a few hours after insertion, we began to receive fire from a large enemy force that had pinpointed our location. After we sustained equipment failure, I requested and extraction for our team. The base commander, flying over the AO at a "high altitude", refused our request. I then heard Dallas urging him to pull us out. After refueling, Dallas returned and told us that he had ordered "slicks" to get us out immediately. In his unique Southern drawl, I heard Dallas say that he would answer any questions from that "asshole" concerning his actions on our extraction! All of the aircraft that worked the target sustained enemy fire as did our team as the slicks pulled us out on ropes! Dallas epitomized all that is right and brave about Special Forces men. Dallas put his live on the line many times saving many recon buddies. May God rest his soul and forever bless his family. Attending the memorial were George Hunt from Oklahoma and Jim Graves and his wife from Victoria, Texas. George also eulogized Dallas and stated that the reason that he was alive was because Dallas had also saved him on an insertion. I received other similar messages from his SOG companions praising him for his actions and bravery. I wish to thanks all the members of our chapter for their outstanding support, compassion and dignity in providing their assistance to the family. We will never forget you brother. Your work here on earth is done, go and rest forever in God's mansion. "you were a good guy, you". Mando (Red Bird) Canales, President, Green Beret Chapter XV

Eulis A. Presley, SOA #830, SFC (Ret), passed away Dec 9, 2010. SFC Presley served in the Army from July 1958 to June 1981 and in the Regiment from 1965 to 1981. He served in a wide variety of positions and made tremendous contributions with the 1st, 5th, and 6th Special Forces Groups, MACVSOG, the Special Warfare Center, and with 1st SFOD-D. SFC Presley entered Special Forces in 1965 and was assigned to the 6th Special Forces Group (Airborne) upon completing the Special Forces Qualification Coruse. In 1967 he was assigned to the 5th Special Forces Group (Airborne) where, as a Staff Sergeant, he was the Company Commander of Second Company, A-503 Nha Trang Mike Force. In 1968 he became the Company Commander of 6th Company, B-55 Nha Trang Mike Force and led his company on numerous missions supporting beleaguered A Detachments and other Special Forces units in heavy contact with the enemy in the I, II, and III Corps Tactical Zones. In 1968 he was reassigned to the 1st Special Forces Group (Airborne) on Okinawa and was sent in March 1969 on temporary duty to the MACV SOG Command and Control South in Vietnam as a member of a Snakebite Team. He was the One Zero of Recon Team Vise and led his team on a successful operation to capture a North Vietnamese prisoner of war in Cambodia west of the Fishhook area of Vietnam. He was then transferred to the MACV SOG Command and Control North (CCN) in May 1969 and was written about in John Plaster's book SOG. Presley was the One Zero of RT Kansas when marauding MiGs caused him to abort a North Vietnam Bright Light mission attempting to reach the Red River Valley. Every time they entered North Vietnam airspace they had to turn back because MiG-21s came up to intercept. In June 1969 One Zero Presley's RT Kansas was tasked to locate and interdict an NVA POL Pipeline in CCN's Target area Oscar Eight. He inserted his team west of Ashau Valley to hunt along Highway 922. Presley returned to the 1st Special Forces Group (Airborne) on Okinawa and in January 1970 he volunteered for another PCS tour of duty in RVN and was assigned to MACVSOG Command and Control Central (CCC), 5th SFGA. In April 1970 SFC Presley became the One Zero of RT Washington at CCC. SSG Presley left the Army in 1971 but returned a year later where he was assigned as an Army Recruiter in the Chicago, IL, area and encouraged enlistees to become Special Forces Soldiers. From 1973 to 1977, Presley was assigned as to the Special Forces School as an Advisor and Instructor to officer and enlisted students in Phase I and Phase III of the Special Forces Qualification Course. From 1977 to 1979 he was assigned as an Evaluator and Advisor to the Eskimo Scout program in Alaska where he was of great assistance in providing that program with reconnaissance and unconventional warfare skills that they had not previously possessed. In 1979 and until his retirement in 1981, he was assigned to the 1st Special Forces Operational Detachment-Delta. In that organization, he created innovative intelligence and briefing techniques that pioneered efforts for what has become the Global War on Terror. He helped to design the Evasion and Escape kits used on the fateful attempt to rescue 53 American hostages in Tehran, Iran, in 1980.

Fred Wayne Lawley, SOA #1772, COL (Ret), passed away Nov. 25, 2010 11 AM at home. I was told that he died peacefully in his sleep. We have lost another great Special Forces soldier. As I recall, Wayne served in 5th SFG(A), was the recipient of the DSC, and was the President of the Special Forces Association for four (4) years. I remember when he organized, and we supported him, the "COL Aaron Bank Walk" a few years back. Services will be at Red Oak Baptist Church 2791 Hwy 290 at 1 PM on Tuesday. The VFW will host a luncheon after the services.

George M. Yosich, SOA #619, CSM (Ret), of Lehigh Acres, FL. passed away October 23, 2010 at Gulf Coast Medical Center. He was born October 3, 1928 in Newark, New Jersey. Leaving his loving Wife Fior Yosich; five children, Jo Means (Don), Donna Jean Presley (Will), Tina Price, Michael George Yosich and Liz Holland (Leo); also two Grandchildren, Travis Holland (Keely) and Ashley Price; Sister Julie Zubak (Steve); Nephew, Rick Zubak (Lorelie), Sherry Bean (Robert), Robert Yosich (Renee); cousin, JR Yovannvich (June); two Grand-nephews and two Grand-nieces. George retired as a Command Sergeant Mayor of the US Army in Special Forces Green Berets, Airborne for 28 years. He was an "original" member of Special Forces having joined the 10th SFG at Fort Bragg. He also served with the 8240th AU (UNPFK) in Korea, and was subsequently assigned to the 2d Partisan Infantry Regiment, Kan Wa Do Island, South Korea. His medals included the Purple Heart. George was a kind- hearted, easy going, adorable Husband, Father and friend. He has friends all over the world and continued making more even to the end. Anyone who got to meet him loved him. He always had a smile and a hand shake to offer. He was always available to anyone who needed him. His quote, "there aren't any strangers, it's just haven't met them yet." He will forever be in our hearts; family and friends both, he will continue to in us all, and he has left a mark in all of us that he has touched. Honorable service will be held at Florida National Cemetery in Bushnell, FL.

Charlie "Cowboy" Bishop, SOA #2570, passed away Friday, October 8, 2010. Charlie had fought a long battle with cancer and in the past ten months had been in and out of the hospital. Mary advised Charlie will be buried at a local Veterans Cemetery in Muskogee, Oklahoma. No information was available on date and time of funeral. Mary expressed Charlie's love of Special Forces and his life time support of our military.

Harold S. Freeman, SOA #1144, Master Chief Petty Officer, 85, a resident of Glen Burnie since 1975, died September 17 2010 due to cancer. He was born in Great Falls, Mont., at tending Montana State College where he studied electrical engineering, and also had 18 post graduate credits from Yale University in Far Eastern Languages. He served 32 years in the U.S. Navy, taking part in three wars. After his retirement from the Navy, he became Vice President of E.G. Jones Associates and managed their firm in Rockville until his retirement in 1986. Master Chief Freeman was highly decorated with over thirty medals and many citations from the Silver Star, for service during World War II to Navy Combat Actions to Vietnam's Armed Forces Meritorious with Crossed Palms for Gallantry. He was authorized the Navy Seal Special Warfare Breast Insignia along with Naval Parachutist and Naval Air crewman. His service included over 2000 hours of mission flying in addition to many jumps and years of extremely hazardous duty in peacetime and in wartime, starting with UDT teams in World War II. He served above five submarines performing hazardous missions, as well as a destroyer and an aircraft carrier. He flew in almost all of the Navy's aircraft during his 32 years, ranging from ancient PBY's to jet A3 attack bombers to numerous Naval Security Group communication assignments. He was the Navy's senior enlisted linguist upon retirement and fluent in Chinese Mandarin, conversational in Cantonese, Russian, German and other languages. He was considered an expert in Far Eastern reconnaissance with surface, subsurface and air missions against worldwide targets. His background living among his Blackfoot Indian friends in Montana in addition to his training in multiple service survival schools made him a recognized expert on survival techniques in the mountains, jungle, arctic, desert, at high altitude and at sea. His interests after retirement were reading history, computers and weaponry. He was a life member of the prestigious Special Operations Association, Fraternal Order of UDT/SEAL Fleet Reserve Annapolis Branch, Disabled American Veterans Post 13, Veterans of Foreign Wars Post 160, China Post #1 of American Legion, E9 Association of Fort Meade, U.S. Marine Corps Force Recon Association, and the U.S. Army Special Forces Association. He is survived by his wife of 60 years, Audrey Ellen Freeman; three children, Charlein Petro, Janice Brinson and Harold Ross Freeman; and two grandchildren, Ross and Marcy Brinson.

Donald Devere, SOA #018, passed at 3:00 AM August 28, 2010. Don was an original member of Special Forces and was one of the early members of our Association. Those of us who have served with Don are aware of his professionalism as a Special Forces Soldier. He was the consummate "Quiet Professional". In 1966 and 1967 Don served in MACVSOG. Don as the Recon Team Leader or "One-Zero" of Team Oregon, trained his team to perfection and then led it into numerous target areas in Laos. Don and Special Forces Soldiers like him are the legend in the "Legendary" of MACV Studies and Observations Group operations. Don was not a stranger to the other elite units in the 5th SFGA. As the First Sergeant of the Project Delta Reconnaissance Company, Don led by example and kept his finger in the operational mix. On one operation, his team made contact and required extraction under duress. When Don's son, assigned as a gunship pilot in the 281st Assault Helicopter Company heard that his dad was in trouble, he flew his gunship out and participated in the extraction of the team. Don had a panel marker inside his hat and when his son identified it, Don told his son to shoot everything around the orange dot. Don was a true "Warrior". A quiet man, cool under fire and accomplished in all aspects of the Warrior ethos. His professional demeanor and competence inspired those around him. He was exactly what you would expect a twenty year Special Forces "Quiet Professional" and a "Warrior", to be. Don's wife, Mary Ann, sons and daughter were at his side when he passed to that special place where Warriors gather on the other side.

William O. Hill, Jr., SOA #1206, 86, of Harbor Creek, Pa., was honorably discharged into the next life on Monday, August 2, 2010, at the VA Hospital in Erie. He was born on November 12, 1923 in Erie, Pa. to the late William O. Hill, Sr. and Lucy (Owens) Hill. Bill was a graduate of East High School and volunteered for the U.S. Army upon the bombing of Pearl Harbor. He was initially trained as a combat engineer at Ft. Belvoir, Va., and also successfully completed engineer officer training. Bill was then deployed to North Africa where he and his men successfully fought the famous German "Afrika Korps." Following combat against Germany, Bill volunteered for a secret mission (code name Galahad) and unknowingly became a "Merrill's Marauder" in the 5307th Composite Unit (Provisional), 2nd BN, I & Plt., BCT under Brigadier General Frank D. Merrill. This special unit was the first U.S. Infantry unit to fight the Japanese in the China-Burma-India Theatre and Bill repeatedly distinguished himself in combat. The Merrill's Marauders were the predecessors to all modern day U.S. Army Rangers and Special Warfare. Following WW II, Bill returned to the U.S. where he taught Guerilla Warfare and worked counter-intelligence throughout the U.S. and Europe during the "denazification" of Germany and start of the Cold War. As the Korean War broke out, Bill again entered combat as a platoon leader with the 2nd Battalion, 75th Ranger Regiment (Airborne). During WW II and the Korean War, Bill was awarded the Silver Star, Bronze Star (with cluster), three Purple Hearts, two Army Commendation Medals, American Defense Medal, American Campaign Medal, European-African-Middle Eastern Campaign Medal (4 Battle Stars), Asiatic-Pacific Campaign Medal (4 Battle Stars), WW II Medal, Army of the Occupation of Germany Medal, Korean Service Medal (2 Battle Stars), Army Good Conduct Medal, and Chinese Freedom Medal. Bill was also awarded Master Parachute Wings and a Combat Infantrymen's Badge (Three Awards), as well as several Presidential Unit Citations. Following the Korean War, Bill returned to the U.S. and eventually pursued a successful political career in Erie County Government. Bill was a progressive leader as a County Commissioner, serving from 1963-1978. During his tenure, he was instrumental in the establishment of many county programs, including GECAC, Erie County MH/MR, Rape Crisis, and the Public Defender's Office. Bill fought vigorously to stop pollution in Lake Erie and was also the PA State Fish Commissioner for Region I. He was the President of the Erie County Prison Board and worked with the World Health Organization throughout his career. He was a member of the first Erie County Council and finished his career serving as the Director of Veteran's Affairs. Bill was adopted by the Seneca Nation of Indians in 1964, and maintained life memberships in the Burma Star Assn., Combat Infantrymen's Assn., U.S. Army Ranger Assn., Special Operations Assn. (SOA), Special Forces Assn., Military Order of the Purple Heart, American Legion Carl Neff Post #571, VFW Post 4789, Chapel of the Four Chaplains, U.S. Army Counter Intelligence Corps Veterans, Disabled American Veterans, and was a 32nd Degree Mason. Bill was preceded in death by his wife of over 60 years, Lorraine E. (Alm) Hill; son, Joseph A. Hill; grandson, SSgt. William J. Hill, U.S. Army; grandson, Joseph A. Hill, Jr.; and granddaughter, Toni Lynn Hill. Survivors include son, William W. Hill, and wife, Diane, of Kane, Pa.; daughter, Sue A. Vrenna, and husband, Jack, of Lawrence Park, Pa.; son, Robert W. Hill, and wife, Ruth, of Corry, Pa.; son, Roger L. Hill, and wife, Georgia, of Harbor Creek, Pa.; son, Michael T. Hill, and wife, Debbie, of Harbor Creek, Pa.; 13 grandchildren; 28 great-grandchildren; two great-great-grandchildren; as well as extended family.

Terry Swafford, SOA #2481, Command Sergeant Major Terry Swafford, 69, passed away July 31, 2010. He was born Nov. 26, 1940 in Steele, Mo., and was a nine year resident of Nevada. Terry served 27 years in the US Army with 20 years as an Army Special Forces member. His assignments included tours in Vietnam, Fort Bragg, Fort Benning and Fort Bliss and as the CSM of Detachment A, in Berlin, Germany. After his retirement, Terry worked for the Fayetteville, NC Police Department and the US Embassy in Germany. He was a life member of the Special Forces Association Chapter 51 and the DAV of Las vegas. His awards included the Bronze Star with two oak Leaf Clusters, the Legion of Merit, Meritorious Service Metal, Vietnam Cross of Gallantry, Combat Infantry Badge, Master Parachute Badge and the Special Forces Tab. Terry is survived by his wife of 48 years, Hanneiore; brother, Jerry B.; sisters. Pat Spicer and Joyce Qualis; and numerous nieces and nephews. Donations can be made to: Disabled American Veterans Sunrise Mountain #13.

FOREST EARL TODD, SOA #124GL, Passed away June 18, 2010. Earl had suffered a stroke in Nov. 2005 and had been hospitalized since. He was hospitalized at the VA hospital in Salisbury, NC. Recently he had suffered several heart attacks and was diagnosed with incurable leukemia. Earl was a member of the SFA and the SOA #124 GL. Earl served 2 years/7months in Vietnam as a member of SF. He was a SOG recon team leader and 1st/Sgt of FOB 2. He received many decorations for his service including: Silver Star; Purple Heart w/2 OLC; Bronze Star; Air Medal w/OLC; ArCom. w/V; ArCom. w/2OLC; UN Service Medal; Korean Service Medal; Soldiers Medal; GCM w/ 3 knots: CIB; EIB; Master Parachutist Badge and several other awards. Earl left the service on 4 June 1971 with 17 years and 8 months served.

Delbert Taylor Rasmussen, SOA #2261, MAJ (USA, Ret), age 69, died on July 20, 2010 following a courageous battle with Cancer. Major Rasmussen was born in Vernal, Utah on June 18, 1941 to the late Manfred Taylor Rasmussen and Angeline Violet Baldwin. He served in the United States Army from 1958 to 1980 completing assignments with several units including two Parachute Infantry Regiments in the 82nd Airborne Division, 7th Special Forces Group, 5th Special Forces Group, 24th Infantry Division, and 8th Infantry Division. While serving in Special Forces, Major Rasmussen completed two and a half years of combat duty in the Republic of Vietnam working special projects under the Military Assistance Command, Vietnam Studies and Observations Group. He received numerous awards and decorations including the Bronze Star with one Oak Leaf Cluster, but he was most proud of earning the Ranger Tab by completing the U.S. Army Ranger Course in March of 1961. He also received a Bachelor of Science in Business from Pembroke State University during his time in the Army. After retiring from the Army, Major Rasmussen enjoyed a second career as a Contracting Officer at Hill Air Force in Roy, Utah. He remained a resident of Roy until his death. Major Rasmussen is survived by his son and his wife, John and Erinn, Fort Worth, TX; his son and his wife Eric and Shannon, Fort Bragg, NC; his daughter Kristen, Charleston, SC; four grandchildren, Heather and her husband Carlos Luis, Camp Lejeune, NC; Bailey, Ryan and Karsyn, Fort Bragg, NC; two great-grandchildren, Ethaniel and Xavior Luis, Camp Lejeune, NC; and numerous brothers and sisters.

RENE D. CARDENAS, SOA #967, CSM (Ret), a member of Chapter 1-18, passed away on June 16, 2010. A 'wake' will be held at Rogers & Breece Funeral Home, 500 Ramsey St., Fayetteville, NC between 7 - 9 p.m.(Thursday)tomorrow night (June 17). A Mass will be held at 12:30 p.m. Friday (June 18) at St. Ann's Catholic Church, 365 N. Cool Spring St., Fayetteville, NC (910) 483-3216]. This service will be followed with a Committal Service at Sandhills State Veterans Cemetery, Spring Lake, NC at 2:00 p.m. with full military honors. Father Thomas Malloy will conduct the Mass and Chaplain Roy F. Hill will conduct the Committal Service. Cards/Letters may be sent to Rene's family at: Mrs. Irma G. Cardenas, 2422 Cleveland Ave., Fayetteville, NC 28312-9247. Tele: (10) 321-6050. Another fine Green Beret has relocated to the ultimate SFOB.

Shephard "Sonny" Hamner Patton, Sr., SOA #1877, age 70, passed away on Monday, June 14, 2010, at his home surrounded by loved ones. Mr. Patton born in Meridian on April 18, 1940, was the son of the late Florence Dale Hamner Patton and Luther Raleigh Patton. He graduated from Gulfport High School and was a Methodist attending Burton, Lyman and Nugent United Methodist Churches. Mr. Patton retired as a Sergeant Major after serving for over twenty-four years in the Army and was Master Parachutist, Ranger and Special Forces qualified. During his career, Sergeant Major Patton ran numerous Top Secret missions into Laos and Cambodia as a One-Zero team leader in MACSOG during the Vietnam conflict. Although he was never wounded during his time there, his death can be directly attributed to the illnesses that he like so many veterans suffered with after serving his country. He is survived by a large, loving family consisting of his wife of thirty-one years, Cynthia (Cindy) Keefer Patton; sons, Shane Tyler Patton and his wife Crystal of Hattiesburg, Shephard Hamner Patton, Jr. and his wife Melinda of Vaiden, and Andy R. Patton and his wife Sandy of Hill City, KS; daughter, Susan Patton Shannon and her husband Jeff of Mesa, AZ; grandchildren, Joyce Nicole Patton Simmons of Saucier, Shephard Hamner Patton, III and his wife Jamie of Houston, Andy Ray Patton, II of Lizana, and Nickolaus Lee Shannon and Matthew Scott Shannon of Mesa. He also leaves his brothers, Luther R. "Ronnie" Patton, II and his wife Janet and Hunter Lowery Patton and his wife Jan, all of Gulfport; five great-grandchildren and numerous nieces, nephews, and cousins. In lieu of flowers, the family requests donations to the Shephard H. and Cynthia K. Patton ROTC Scholarship Endowment at the University of Southern Mississippi, 118 College Dr, PO Box 10026, Hattiesburg, MS 39406.

Leonard Wallach, SOA #1112, BG (Ret) passed away May 30, 2010. He was a highly decorated Army officer who also served as a director of major running events, including the San Francisco Bay to Breakers race and the marathon races in the 1984 Olympics. Mr. Wallach served in three wars and received three Purple Hearts, three Bronze Star medals for valor and 52 othe rmedals for heroism, outstanding service and fo rmilitary campaigns. He enlisted in World War II as a private and was promoted to brigadier general when he retired fromthe Army Reserve more than 40 years later. Mr. Wallach was a soldier and an athlete - and later, a director of athletic events, particularly running. Hewas a varsity swimmer and
gymnast at what was then called San Jose State College and captain of the Army's marathon team. He competed in swimming in the 1948 Olympics and was swimming coach for the Army in the 1964 Olympic Games. He competed in triathlons and ran in over two marathon races. In 1976, when he was voted San Francisco's Running Man of the Year, he ran over 4,500 miles. Mr. Wallach was a third-generation soldier, born on amilitary post in Honolulu. He graduated from San Jose State and did graduate work at theUniversity of Oregon. He joined the Army inWorld War II as an enlisted man and attended officer candidate school. He served in the Philippines during that war and then served in the Korean and Vietnam wars, where he had duty in special operations. He was also a member of airborne units and had 122 parachute jumps. His Army career spanned over 43 years on active and reserve duty. "He left a legacy of honesty and integrity," said his widow, Diana Wallach. He is also survived by two daughters, Lea Sassone of Santa Rosa and Bonnie Stowell of Washington,D.C.; two sons, Tim Wallach of Amsterdam, and Jeff Wallach of San Francisco. There are two stepsons, Scott Chronert of Ross, and Stephen Chronert of Greenwich, Conn.; and seven grandchildren.

Donald M. Palmer, SOA #963, One of our Australian buddies, passed away on 24 May 2010. Donny served some 25 years in the Australian Army, all with Infantry Battalions. WO1 Palmer served in Korea at the age of 18. After Korea he served in Malay and later in Vietnam. Donny served with the 5th SFGA, A-107.Later with Mobile Advisory Training Team 4 RF Coy and again later with Matt 4 Long Dien, AN Ngai and Phuoc Tuy. Donny was highly decorated for his time in Vietnam. Donny retired from the Army as a well respected RSM (Regimental Sgt. Major) of 5th Battalion of the Royal Australian Regiment, Infantry. Don is survived by his wife Daph, three children Douglas,David and Michel and grandchildren. Donny will be missed by all.

HARRY "HEINIE" ADERHOLT, SOA #900, BG (Ret), passed away away on Thursday morning, 20 May 2010 in his home surrounded by family, loyal friends and his devoted caregiver, Jamie Newman. He was born on Jan. 6, 1920, in Birmingham, Ala., to Forest Aderholt and Katie Banholzer and was preceded in death by his loving wife of 56 years, Jessie; brothers, Roy Aderholt and Robert Aderholt; and sister, Cornelia Akin. He is survived by his wife, Anne; daughter, Janet Lynn Elliott and husband Chaplin Col. (Ret.) Richard G. Elliott Jr. of Panama City, Fla.; son, George Aderholt and wife Pat of Navarre, Fla.; one sister, Katherine McDaniel of Trussville, Ala.; two brothers, Warren Aderholt and his wife Bunny of Marietta, Ga., and Louis Aderholt of Huntsville, Ala.; grandchildren, Kevin Richard Elliott and wife Kathy Anderson Elliott, Stacie Lynn Elliott, Kellie Marie Elliott and Mark Randall Elliott; great-granddaughter, Annie Lynn Elliott; and several nieces and nephews. Heinie was one of seven children raised by his widowed mother (his father died, as a result of an accident, when Heinie was just a boy of nine), and he learned very early in life many lessons that would shape his future. Undoubtedly, his mother's influence from her strength, courage, love and strict discipline, provided him with the solid foundation that helped him to grow and develop into the remarkable man he became. Heinie's love of people was obvious and his sincerity and straight forward, up-front approach encouraged the development of many life-long friendships. None more enduring than the bond of love, loyalty and mutual respect that he shared with Maj. Gen. Richard Secord. We wish to thank his faithful friend, Joseph Caruth, who enabled him to continue his early morning ritual of working out at Aderholt Fitness Center. Until his final days he remained close to his brothers and sister and their families. As recently as late January, he made a trip to Birmingham, on to Huntsville, then to Atlanta, assuring all he would be back soon. Gen. Aderholt's 30-plus year military career is legendary. His status as a leader, his many accomplishments, awards and citations will be recorded in the annals of military history. His innumerable friends will remember him as a man of integrity with a loving heart who inspired and touched so many lives.

Thomas W. Kyle, SOA #2141, passed away on May 18, 2010.

DANIEL P. KELLY JR., SOA #2687, SFC (Ret), was found dead in his home on the evening of May 13, 2010 from an apparent heart attack. Daniel is survived by his 4 kids; Daniel, Clayton, Sandra , Melissa and his ex-wife Edith. Daniel Kelly was born in Oswego, NY on April 21, 1939 and was living In Lawrence, KS when he passed away. I'm not sure of the exact years my father served in Vietnam, but I do know that in 1967 he received 3 Bronze Stars. He was associated with MACVSOG CCS and Project Omega. He was stationed at the following posts: Ft Bragg, NC, Ft Richardson, AK, Ft Gulick, Panama Canal Zone, Ft Devens, MA, Ft Carson, CO and his final duty assignment was as an ROTC Instructor at Kansas University in Lawrence, KS where he retired.

WIL CHARETTE, SOA #1410, Wilfred J.A. Charette born 14 November 1936, passed away 9 May 2010 at his home in Tampa, FL. Wil Charette, a native of Rhode Island served 11 years of military service followed by service with the Central Intelligence Agency (CIA) from 1964 until his retirement on 29 November 1996. His first CIA assignment was as a paramilitary Staff Officer at CIA Headquarters and its domestic training facilities. He then served in Laos and Thailand as a Paramilitary Case Officer, Chief of Operations, and Chief of a Laotian irregular paramilitary unit for 8 years. Mr. Charette was then assigned to Ethiopia and Ghana from 1974-1979. In late 1979 Mr. Charette was posted to Swaziland, as Chief of Station (COS) until 1982 when he was assigned to Kampala, Uganda, as COS. Following a two-year tour in Uganda, Mr. Charette attended the US Naval War College in Newport, RI, where he received a Master's Degree in National Security and Strategic Studies. In 1985, he was appointed Chief, CIA Counter Terrorist Center, Foreign Liaison Training and Terrorist Incident Response Team (IRT). From 1992-1994, Mr. Charette served as the Agency's Deputy Chief, Office of Field Deployment. His last U.S. Government assignment was that of DCI Representative at U.S. Special Operations Command, MacDill AFB, Tampa, Florida. Mr. Charette, in post retirement, continued to serve the intelligence community as a senior advisor to SOCCENT at MacDill AFB. Mr. Charette served on the board of directors and co-founded the Special Operation Memorial Foundation, MacDill AFB. Mr. Charette had extensive military experience, having served domestically and overseas with the 508th Airborne Regimental Combat Team (ARCT), the 101st Airborne Division, the 1st Calvary Division, and Special Forces. Mr. Charette is a Charter Member of the US Army Parachute Team (Golden Knights). He was the first Non-Commissioned Officer in Charge (NCOIC) of the Special Forces Training Group High Altitude Low Opening (HALO) Committee, which included Fulton Recovery Systems (SKYHOOK) Operations. In 1961, he was selected to train the 22nd Special Air Service Regiment's military free fall cadre at Hereford, England. Mr. Charette was a member of the Joint Army/USAF HALO Test Team in the early 1960's that established much of the HALO training and operations doctrine still in use today. He also participated in the record breaking 43,500 foot jump to establish a world record "FAI Class G-II-C, group of nine with delayed fall". He received the Distinguished Flying Cross for his participation in the HALO Test Program and his subsequent use of HALO insertion techniques. He is the author of the United States Parachute Association (USPA) Publication, "Jumping in the Troposphere", and is the recipient of the USPA Golden Wings representing 1,000 free fall parachute jumps. Mr. Charette's last military assignment was with the 5th Special Forces Group. During his stellar and distinguished career, Mr. Charette received the following awards and commendations: (CIA) Donovan Award for Excellence Career Intelligence Medal for Exceptional Achievement Two Director Of Central Intelligence awards for exceptional service under conditions of hazard and hardship Promoted into the Senior Intelligence Service (SIS-1989) (DOD) Distinguished Flying Cross Secretary of Defense Medal for Meritorious Civilian Service Wil Charette will be remembered for his commitment to service, to his country and to his family. He will always be remembered as a patriot and the epitome of what it means to be a true American hero. In the words of his brothers and sisters in the clandestine service "he was a legendary warrior…A legend in own time. The things he survived, his mentoring, his leadership, and his unwavering patriotism is and will forever be a flame that goes on burning, we will never forget him. He was our commander… our General."

CHARLES A. "CHUCK' RILEY, SOA #1107GL, LTC USAF (Ret.), age 83 of 23 Hamburg Mtn. Road died Friday, April 30, 2010. Charles was born August 8, 1926 in Sullivan County, Tenn. and was a career military officer before retiring to Weaverville in the 1970's. He officer was the son of the late Charles Andrew Riley and Marian Lee Null Riley. Col. Charles A. Riley, USAF Retired, served with the Navy Amphibious Forces in the pacific Theater during World War II, (Iwo Jima), the Army's 82nd Airborne Division after the war. He then transferred to the US Air Force in 1949 to attend Pilot School. He flew aerial combat in Korea with the Air Rescue Service, then two tours in Vietnam in Air Commando Squadrons. He was a Master Parachutist and a Command pilot. After retiring from the military he worked with photography and was an alcohol and drug abuse counselor. Surviving are his wife of 6l years, Vera "Kit" Young Riley; daughters, Sallye Riley Fox and husband Martin of Fairview and Kathryn Crawford and husband Chip of Sarasota, Fla.; son, William D. 'Bill" Riley and wife Pat of Bradenton, Fla.; sister, Ruth Ann Latham of Knoxville, Tenn.; grandchildren, Sloan Brigman, Kelly Waldrop, and Bridget Riley and great granddaughter, Haley Brigman.

ROY LEE JOHNSON, SOA #1458, Died 7 April 2010 at his home in Tampa FL after a courageous battle with cancer, Roy was in the care of LifePath Hospice and surrounded by members of his loving family. Mr Johnson was born on January 17, 1932 in Penn Laird, VA to Melvin and Ruby Good Johnson. Roy was married to Takeko "Kay" Kasai who preceded Roy's death in August 2008. He is survived by his two children, John E. Johnson and Jo Ann Babcock, of Tampa, FL. four sisters and a brother, as well as seven grandchildren and five great grandchildren. Roy was preceded in death by two brothers and two sisters. Roy joined the U.S. Army in 1950, and 25 years of distinguished service retired in 1975. During his military career, Roy served 22 years in elite airborne units, including 14 years in the U.S. Army Special Forces. He was a decorated veteran of the Korean and Vietnam wars, and served in the Dominican Republic as a military advisor during the Cuban crisis. He was awarded several medals as a result of his combat tours, including the Purple Heart, Bronze Star with V, Air Medal, Korean Service Medal, Republic of Vietnam Campaign Ribbon, Vietnam Service Medal, and the United Nations Service Medal. After Roy's military retirement he moved to Broadway, VA where he and his wife owned and operated the Broadway Restaurant and Cleaners for over 16 years. Memorial services will be held in Broadway, VA. on 17 April 2010.

GERALD "JERRY" WAREING, SOA # 907-GL, Captain, US Army, (Ret), passed away on February 16, 2010 at his home in Thailand. Jerry was born on July 19th, 1934 in Yonkers, New York. Jerry entered the Army in 1952 and his first major assignment was with the 77th Special Forces Group. He participated on "White Star/Hot Foot" while assigned to 7th Special Forces Group. Jerry brought a "Snake Bite" Team from 1st Special Forces to MACV-SOG. In 1966 Jerry was the "10" of RT Iowa, FOB-2, MACV-SOG. He also served in the 10th, 3rd, 5th, 8th Special Forces Groups and 46th Special Forces Company. He also served with 11th Airborne Division in Germany. Jerry received a direct commission from General Westmoreland along with Dick Meadows and Bill Walsh while assigned to MACV-SOG. His many awards and decorations include the Soldiers Medal, Bronze Star w/V Device, PUC, MUC, CIB, Medical Badge and Commendation Badge. Upon his retirement in California, he assisted in training members of the 12th Special Forces Group in SCUBA. He is survived by his wife, Tasanee of Thailand.

ROBERT L. (BOB) KORCHEK, SOA #246-DD & SFA #D-560L, LTC (Ret.), a member of Chapter XXXIII, Special Forces Association, suffered a debilitating stroke in late January and passed away in Hospice in Spartanburg, SC on Tuesday, February 2, 2010. He was 81 years old. A veteran of the Korean and Vietnam Wars, Bob started his military career by following in his father's and grandfather's footsteps and enlisting in the US Marine Corps at the end of WWII. Demobilized in 1946, he applied for entrance to the United States Military Academy at West Point, entering the academy in 1947 as a member of the Class of 1951 where he later achieved the distinction of being the class "Goat." He initially served in the 511th AIR of the 11th Abn Div, but, along with most of the Class of '51, he was immediately shipped to the war in Korea, serving with the 7th Inf Regt, 3rd Inf Div for 15 months as a Platoon Leader and Company Commander. Returning to the States, Bob attended the regular Army schools and then served in the 505th AIR, 82nd Abn Div for three years as a Bn S-1 and Company Commander. In 1958 Bob joined Special Forces, serving in the 77th (later the 7th) SFG(A) as an A Team Leader. While assigned to the 77th, he served his first of two tours with the WHITE STAR MTT in Laos. He next served in the 1st SFG(A) for four years as an A Team Leader and on the Group S-3 staff, where he once again deployed to the WHITE STAR MTT in Laos. Later SF assignments included one year on the USMACV(SOG) staff; service as an Instructor in the Officer's Special Forces Qualification Course; and a year as the S-3 of the 46th SF Co (A) in Thailand. Returning from Thailand, Bob immediately deployed overseas again: this time to Panama where he served three years as the Commander of A Company and as the Group Deputy Commander. While commanding Company A, he earned the nickname "The Rock" because he was fondly known as a hard, demanding, firm but fair commander. He carried this nickname with him until he retired from the Army. His last assignment was to the Special Warfare Center where he served as the Course Director for the Enlisted Special Forces Qualification Course. LTC Korchek was the recipient of numerous awards and decorations for both valor and service. He is survived by his beloved wife, Annemarie; a daughter, Lori; and four step children: SSG Thomas P. Cronin, Tina, John and Rheinhart.

PAUL FREDRICK POOLE, SOA #2550, MSG (Ret.) age 67, of Cabot went to be with his heavenly father Tuesday, February 2, 2010. He was born May 25, 1942 in Horatio, Arkansas to Helen Bailey Poole of Cabot and the late Paul Emerson Poole. Mr. Poole enjoyed training and riding horses. In addition to his father, he was preceded in death by two sons, Paul and Edward Poole. Mr. Poole is survived by his wife, Nona Poole of the home, his mother Helen Bailey Poole of Cabot, a sister Rosalie Petersen (Dr. Rex) of Neosho, Missouri, one brother David Poole (Carolyn) of Sheridan and several nieces and nephews.
It is with deep regrets, that the SOA Board of Officers announces to the membership this list of Non-Members who have passed away:
Dorothy Boyer, (Non-Member), 92, passed 2 May 2013. Mother of FOB-4 Sgt. Al Boyer (Spike Team Asp), MIA 28 March 1968 in Laos. Al was also at FOB-1 before moving to FOB-4 in late 1967. Our thoughts are with the family.

Mrs. Gerry Parks, (Non-Member), ex-wife of CSM (R) Robert 'Spider' Parks passed away on January 1, 2013,
while residing with her daughter Michelle Warburton and her family in Apollo Beach, FL.

Joseph Romero "Joe" Cervantes, (Non-Member), 81, of Asheville, NC went to be with his Lord on Wednesday, November 14, 2012 at his residence. Mr. Cervantes was a native of San Carlos Apache Indian Reservation and had resided in Western North Carolina for the past 20 years. He retired from the U.S. Army where he served in the Special Forces with the rank of Sgt. First Class and also retired as a Patrolman with the Fayetteville Police Department with the rank of Sgt. He was a veteran having served during the Korean War with the U.S. Marine Corp. and the Vietnam War with the U.S. Army. He was a son of the late Atanasio Servin Cervantes and Saladad Estebani Morales Cervantes. Surviving are his wife, Carol Rose Winarsky Cervantes; daughter, Marie C. Smith of Columbia, SC; son, Tracy Cervantes of Fayetteville; grandsons, Bryant Johnson of Columbia, SC and Tyrone Smith of Seekonk, MA and 4 great grandchildren.

Beverly B. (Sam) Croft, (Non-Member), CSM, USA (Ret) passed away 14 Nov 2012.

Charles "Chuck" McGuire, (Non-Member), SGM (Ret), Master of the McGuire Rig, passed away on August 25th, 2012.

Robert N. Taylor, (Non-Member), SGM (Ret), passed away Saturday, July 14, 2012, from natural causes. He served in MACVSOG with CCS.

Roy E. Meeks, (Non-Member), COL, USA (Ret), passed away April 14 2012.

Ralph Reno, (Non-Member), MSG (Ret), 1-1, RT Nevada, lost July 3 1966, services will be Thursday September 8, 2011 at graveside 11 AM at Arlington National Cemetery.

Donald Monroe Shue, (Non-Member), SFC, age 20, died in battle during the Vietnam Conflict on November 3, 1969.
He was born August 29, 1949 in Cabarrus County, NC, the son of the late Wesley Monroe Shue and Nellie Mae Lefler Shue. He attended A.L. Brown High School in Kannapolis, NC. Donald entered the U.S. Army in 1967 where he served one tour of duty until his untimely death. His family fondly remembers his friendly ways, always loving to smile, and the vast number of friends he easily made throughout his short life. In addition to his parents he is preceded in death by a sister, Helen B. Blackwelder and a brother, Billy James Shue who died of diphtheria at age 10. His sister, Peggy S. Hinson reflected on the following comments about him. "Donnie would always come to us for money always smiling with his hand out – Now who come ever turn that down?? If I could only do that again. The first thing I thought about when they told us they found Donnie's remains was: The 'Lord' told us that 'He' would bring him home – not our time, but in 'His' time. God didn't say he would be alive or dead --- But this 'word of knowledge' was true and did come to pass after 41 years. Praise the Lord for 'His' word never fails!!! And with Donnie's Daddy, Mama, Billy, and Helen looking down at all of us at this memorial in honor of their son and brother. Also in honor of 'the Green Beret's, the MAC V SOG, and all our veterans that paid a huge price for our freedom."

Alice Hornung, (Non-Member), wife of SOA member Ted Hornung, SOA#1181, passed away last year on 17 April 2011.

David Chamizo, (Non-Member), MSG (Ret), passed away March 09, 2011 at the hospital in Tingo Maria, Peru. He was doing what he loved most since his retirement working against the narcotraffic and drug production, as an Advisor for the Eradication of Coca in Peru.

Henryk (Frenchy) Szarek, (Non-Member), 83 years old, of Leominster, formerly of Arlington, died Sunday, February 27, 2011 in Health Alliance-Leominster. He is survived by his wife of 55 years Jeannette C. (Levesque) Szarek, his sons Raymond H. Szarek and his wife Nanita of Newark, NY and Robert J. Szarek of Leominster, his daughter Christine M. Gamez and her husband Robert of Burlington, his sisters Christine Mokzan of France and Daniella Jawien of Poland, 9 grandchildren, Rebecca, Daniel, Timothy, Samantha, Nicole, Conor, Kelsey, Deborah and Anna, and 6 great grandchildren.
Mr. Szarek was born in Poland on July 22, 1927, son of Mieczyslaw and Jozefa (Ostrowska) Szarek and had lived in Arlington for 45 years before moving to Leominster 2 years ago. He had been an Electronic Technician, working in Research and Development for many years. He was a U.S. Army Veteran, serving in the Special Forces during the Korean War. Frenchy was a member of St. Cecilia's Church in Leominster, the American Legion in Arlington, the V.F.W. in Cambridge and was a life member of the Special Forces Association Local 54. Many members may remember the 1951 Lodge Act 1 which granted citizenship to foreign nationals who joined the U.S. Army for a period of 5 years. Frenchy is such a soldier. In World War II while serving with the Polish-Russian Army he was wearing the four cornered Polish hat with the Polish Eagle, the emblem of Poland: acting as a motorcycle messenger Knowing Puhsh-Freneh-German and Russian he was also used as a linguist. Frenchy was active in the anti-communist underground, forced to flee through Russian lines to the French allies. There he joined the French Foreign Legion at the age of 19 and volunteered for the elite paratrooper unit "The I-B-E-P. Frenchy fought for several years with the legion in indo-China and Vietnam. After his tour with the Legion he joined the U.S. Army under the Lodge Act and was assigned to the 10th SFGA. He got his citizenship in 1958. Frenchy could speak five languages and served on many Black Operations. He appeared in the movie Beau Geste with Telly Savalas, Guy Stockwell, Doug McClure, and Leslie Nielsen.

Lowell Wesley Stevens Sr.,(Non-Member), 69, of Fayetteville, passed away on Wednesday, Jan. 26, 2011. Lowell arrived on this earth as the first child of a coal mining family on July 8, 1941, in Putney, W.Va. The coal mining camp of Putney was located at the head of a 16-mile hollow and no longer exists. He was the son of the late Elmer and Opal Young Stevens. In addition to his parents, he was preceded in death by his brother, Larry; and his sister, Jean. He was named after both of his grandfathers, Lowell H. Stevens and John Wesley Young. Lowell was the first one in his family to graduate from high school, but had only two options after doing so; go to work in the coal mines, which had killed his dad, or join the U.S. military. His father had served as a machine gunner in Europe during the last stages of World War II with the 376th Infantry Regiment of the 94th Infantry Division and was immensely proud of his Combat Infantryman Badge. On July 29, 1959, Lowell entered the U.S. Army, having enlisted for Airborne unassigned. He graduated from Jump School in February 1960, and six years later he was a master parachutist. Later on, he added HALO and HALO Master Wings to his chest. From December 1959 to May 1963, he was a proud member of the 101st Airborne Division at Fort Campbell, Ky. In May 1963, he volunteered for Special Forces training and completed the course with MOS 112 (Heavy Weapons Infantryman) in November of that year. In November 1963, Lowell was assigned to the 1st Special Forces Group (Airborne) located on Okinawa and performed the duties of the Heavy Weapons man on A-Detachments. He served on Detachment A-312 from Company C on a six month TDY mission to South Vietnam from June to December 1964. From May to July 1965, he was a squad leader in the Recon Platoon of the 1st Battalion, 503rd Parachute Infantry Regiment. In October 1965, Lowell was assigned to the 5th Special Forces Group (Airborne) in South Vietnam. Between this date and August 1972, Lowell completed a total of 71 months with the 5th Group in Vietnam. His duties included serving on A-Camps, MACV SOG, Mike Force company commander, and instructor at MACV Recondo School. He served for a total of six years and five months in Vietnam. After Vietnam, he was assigned once again to the 1st Special Forces Group (Airborne) on Okinawa for 18 months. In April, he was assigned to the 5th Special Forces Group (Airborne) at Fort Bragg. During the last eight years of his military service, he preformed the duties of the team sergeant on Operational Detachments. In his opinion, nothing in the Army was greater or more important than the team sergeant on an ODA. After retiring from the Army on March 1, 1980, he was an owner and operator of a new Peterbilt truck, leased to trucking companies that specialized in hauling steel and machinery until July 1983. During these 3 1/2years, he traveled the continental United Sates and visited with his rig all but two of our states. He enjoyed seeing our country from the vantage point afforded him by the cab of his truck. In July 1983, he started work on Camp Mackall as the range control representative. He took an intense interest in the history of Mackall and for more than 27 years, he endeavored all but daily to learn the rich history of the "home of the Airborne during World War II." He said many times that his service in Vietnam and his time at Camp Mackall defined his life and provided a degree of contentment that few men ever realized. On Sept. 1, 2010, Lowell retired from civil service on Fort Bragg with more than 47 years of enjoyable service with the federal government. Although he did not like to enumerate the awards he received while in the Army, it is customary to do so, so here it goes: Silver Star Medal (three awards), Legion of Merit, Bronze Star Medal (six awards), Purple Heart (two awards), Combat Infantryman Badge, Expert Infantryman Badge and a handful of "I was there" awards. He was most proud of his Vietnam Campaign Medal, which indicated that he was awarded 16 campaigns out of a total of 17 awarded for the entire Vietnam War. He is survived by his sister, Frances Stevens James and husband Cecil, of Thomson, Ga.; his wife of more than 35 years, Emiko; son, Lowell Jr. and wife Lauri; daughters, Natalie Stevens and husband Bart Palmer and Cheryl Stevens Mericle; two grandsons, Chance Palmer and Brandon Stevens; and two granddaughters, Brooke Stevens and Chasity Palmer, all of Fayetteville. Memorial services will be held at Rogers and Breece Funeral Home chapel in Fayetteville on Monday, Jan. 31, 2011, at 12:30 p.m. Interment will follow at Sandhillls Veterans Cemetery in Spring Lakes with full military honors. Services entrusted to Rogers and Breece Funeral Home of Fayetteville.

John W. "Jack" Green, III, (Non-Member), born 5 Nov 1938, died 11 Dec 2010 in his native Baton Rouge, Lousianna. Jack is survived by his wife Linda and a host of children, grandchildren and great-grandchildren. A Memorial was held at Broadmoor United Methodist Church on 18 Dec 2010. A private inurnment at Roselawn Memorial Park for family was conducted. Jack Green was a graduate of ORWAC Class 64-1. CPT Jack Green was a member of the 145th Airlift Platoon in Vietnam. The 145th was the legacy unit for the 281st Assault Helicopter Company which arrived in theater at Nha Trang, RVN in early 1966. Jack, a senior Aircraft Commander and Operations Officer with the 145th was instrumental in the train-up of the 281st and its development into the first US Army, Special Operations Helicopter unit. He worked with members of 5th SFG, B-52, Project Delta in the implementation of the McGuire Rig for the extraction of Recon Teams. Jack Green flew the first emergency extraction utilizing the McGuire Rig in a UH-1B for Project Delta. Among his awards and decorations are two awards of the Distinguished Flying Cross. Upon release from Active Duty, Jack became a member of the Army National Guard and served for a few years until business interest caused him to leave the military. He was a successful contractor in Baton Rouge for many years and was enjoying his retirement at the time of his death. He was a member of Broadmoor United Methodist Church, Mid City Model Rail Roader and a friend of Bill W. He also served on the board of BRAADC. Jack was a Founding Life Member and Past President of the 281st AHC Association, a Life Member of VHPA and the Special Operations Association. His last mission for the 281st AHC Association was a trip to Ft Drum, New York where he and other members met with members of G Co, 2/10 Avn who were about to deploy to Afghanistan. G Company honored the 281st by reviving the "Intruder" call sign of the 281st to use during their deployment.

FRED BRADLEY SCHOOMAKER ("BRAD"), (Non-Member), 88, died peacefully on June 21, 2010 with family members at his side at the McGraw Center for Caring (Community Hospice of Northeast Florida), in Jacksonville, Florida. Following his death, a private family service was held, with plans for inurnment and a service with full military honors at Arlington National Cemetery. A native of Three Rivers, MI, Brad Schoomaker attended Western Michigan and Michigan State College (now MSU) where he met his future wife, Frances E. Vargha of Detroit, MI. He enlisted in the U.S. Army in 1942 and completed Officer Candidate School (OCS) two years later. Commissioned as a second lieutenant in the Field Artillery on June 16, 1944, he began a long and storied military career. His wartime service to our country took him to Europe in World War II, to the landing at Inchon and service on the Korean Peninsula during the Korean War, as well as Saigon during the early stages of the Vietnam War. Brad and Frances were married in 1943 in Detroit, MI prior to his deployment for WW II. Even the challenges of repeated wartime service during WWII , Korea, and Vietnam didn't prevent them from successfully raising a family of four boys. In addition to his foreign travels during wartime service, Brad's military service took him to: Ft. Sill, OK; the Canal Zone in Panama; the U.S. Army Command and General Staff College at Ft. Leavenworth, KS; the Army War College in Carlisle, PA; the Pentagon; and Stuttgart, Germany. Brad completed his 32-year Army career when he retired in 1974 as a Colonel in the Field Artillery. This was followed by a second career working for Braddock, Dunn & McDonald (BDM International) in Fairfax, VA as a nuclear operations analyst, before he and Fran fully retired in 1986 Following retirement, the couple moved from Annandale, VA and lived briefly in Advance, NC before finally settling in Cypress Village in Jacksonville, FL in 1993. Brad's greatest joys in recent years were being a volunteer at Mayo Clinic assisting with the transport of patients, involvement with friends and neighbors in the community, and traveling to Canada visiting friends and family along the way. Brad is survived by Frances, his wife of 67 years, his four sons and their wives, eleven grandchildren and spouses, and five great grandchildren including: Pete & Cindy Schoomaker [Wendy, Lara (& MJ Winchester) and Andrew]; Eric & Audrey Schoomaker [Heidi, Kayla & Evan]; Mark & Jane Schoomaker [Matthew & Peter]; and Paul & Lee Schoomaker [James (& Julie with Isabel & Brad), Carrie (& John Dolton with Sophia, Amelia & Ethan) and Sara (& Sean Kelly). Full military honors and inurnment are planned for Brad at Arlington National Cemetery, Arlington, VA on Friday, October 29, 2010, at 11:00. In lieu of any flowers or other gifts, Brad requested that he be memorialized with donations to: Special Operations Warrior Foundation (http://www.specialops.org/), or your local hospice organization.

PETE ANDRE, (Non-Member), COL, SF, USA (Ret.), died 27 June 2010. The specific cause of death is not known to this writer but Pete had suffered for many years with ever more debilitating multiple sclerosis (MS). For the last few months he had been in a number of hospitals, care centers, etc. Pete was of a rare breed. He discovered Special Forces while it was still new and he was a lieutenant. He became what he characterized as a "True Believer." Ever after he self-identified as a Special Forces soldier and officer. His career spanned the era when a Special Forces assignment was deeply frowned upon by an officer's parent branch---particularly Pete's branch, Infantry---and pursuit of a second such assignment was equated to career suicide. Pete was one of the 'dedicated defiant'; telling branch managers with well chosen words what he thought, what he wanted and what they should do. He served in a rich variety of assignments from being an instructor in early SF officer training to being a member of a small SF team in that trained the Cuban brigade that invaded Cuba at the ill starred Bay of Pigs. He served in Laos in the White Star program and in Vietnam both with Studies and Observation Group (SOG) and as an advisor to the Korean division. Many older special operations veterans will remember him from Special Forces' bleak years following Vietnam when from his Unconventional Warfare position at Readiness Command (REDCOM) he initiated and executed an effort to identify equipment and techniques to support Special Forces and SEAL operational missions. Because of the paucity of assigned assets, the successes of this program were largely dependent on his abilities to describe, convince, wheedle, and cajole. His forte was managing to add experimental equipment tests to approved joint exercises, thereby acquiring needed support. During his twentieth year of service he discovered he had MS. He determined that he was not going to let it control his life. By pacing himself and care he managed to serve an additional nine years before he felt that for the good of the Army and himself, he should retire. During retirement Pete and another similarly afflicted officer built an information support net for military personnel who discovered that they had MS. Typically of Pete, he would listen to no complaints or 'why me?' but was ready to provide the best available information, flavored by his experiences. Special Forces was fortunate in the days before the protection of personnel specialties, a combat arms branch, and recognition of its value to have such officers as Pete Andre.

JERRY HOWLAND, (Non-Member), first 1-0 of RT Hawaii in 1966-67, passed away this morning at 1:45am. Upon retiring he became the Fayetteville, NC city engineer. The surviving family members are working on his funeral arrangements. There will be services at Reeves Funeral Home 3308 N. Main St. Hope Mills, NC 28348 910-424-3700.

RALPH W. "PAPPY" SHELTON, (Non-Member), MAJ. Prior to OCS Pappy had 10 years enlisted service, making him one of the "old" men of the group. Pappy came to OCS as an MSG, having served in Germany (8ID), several stateside posts, Japan (1CAV) and Korea. Pap was in G Co 19th Inf Regt 24th ID during the Korean War's early fighting. Pap's military schools include Inf Car Crs, Special Forces Off Crs, Unconventional Warfare, Jumpmaster, and Language School (Spanish). Awards include SS, JSCM, two ACMs w/V and CIB w/Star. Assignments include Plt Ldr, Co XO and CO and SF Det Cmdr and Operations Officer. Pappy say the most significant event of his career was heading the Mobile Training Team—MTT Shelton—from Panama to Bolivia in 1967. He trained the Ranger Bn that fought Che Cuevara's guerrilla band, defeated the band and captured Che on 8 October 1967. Another significant assignment was with the White Star MTT in Laos, January-July 1962, another secret action at the time. Pappy retired from the Army in August 1968. He earned his bachelor's degree at Memphis State in 1977 and his master's degree there in 1980. His major employment since retiring from the military in 1968 has been as JROTC instructor for Memphis city schools and as training officer for the U.S. Office of Personnel Mgmt. Pap and his first wife, Margaret, had one son and four daughters. He and Susan, a lawyer, were married in August 1974. He retired the second time 2 May 1994.

RICHARD E. JENKINS, (Non-Member), SSG, Former SOG Recon member, passed away March 13, 2010. Richard "Big Jenks" was a member of RT Iowa, Jerry Wareing 10, in 1966 in FOB 2, Kontum. Later, toward the end of his tour, he moved to Kham Duc with Jerry Howland and Snuffy Conroy to establish a training program for Nungs recruited for the Hatchet Forces. He left the Army to return to civilian life and was not a member of the SOA. Jenkins last rank held was SSG E-6. Originally from Maine, Big Jenks lived in Vancouver, WA at the time of his passing. He is survived by a daughter, Deborah Brooks.